ROKR Marble Explorer LG503
Items Included: Wooden Pieces, Steel Balls, etc.
Number of Pieces: 260
Difficulty Level: ★★★★☆☆
Assembly Time: About 6h
Age: 14+
Package Size: 318*234*48mm
Assembly Size: 255*229*204mm
ROLLER COASTER DESIGN – This Lift Coaster 3D puzzle is like a real roller coaster, after the assembly, the ball can be rolled along the track. These designs are inspired by real-life mechanisms.We believes that building these beautiful working models should be fun. 4 kinds of 3D wooden coaster craft kits bring adults back to childhood and help children enjoy a journey of exploring woodcraft construction. Exciting and educational!
Description
ROKR Marble Explorer Story
Robotime-ROKR Marble Run Race is based on great human engineering. They combine the beauty of science and machines, involving so many small gadgets. Build the set and crank the handle, watch marbles run crazy down the slopes and twisting turns.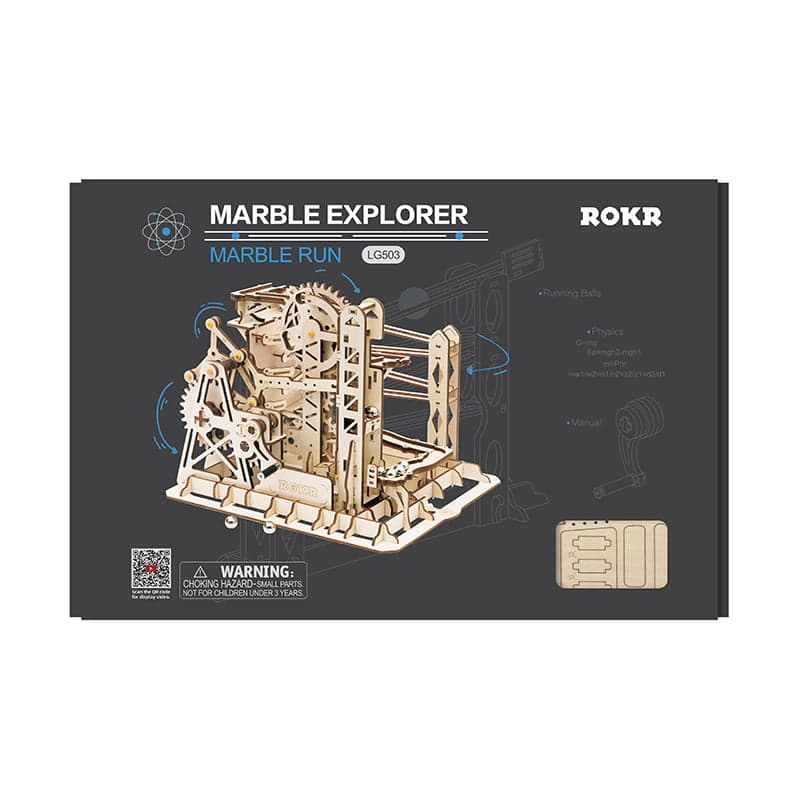 PACKAGE INCLUDED
Exquisite Package.
Pre-cut Wood Sheets.
Accessory Tools.
English Instruction Book.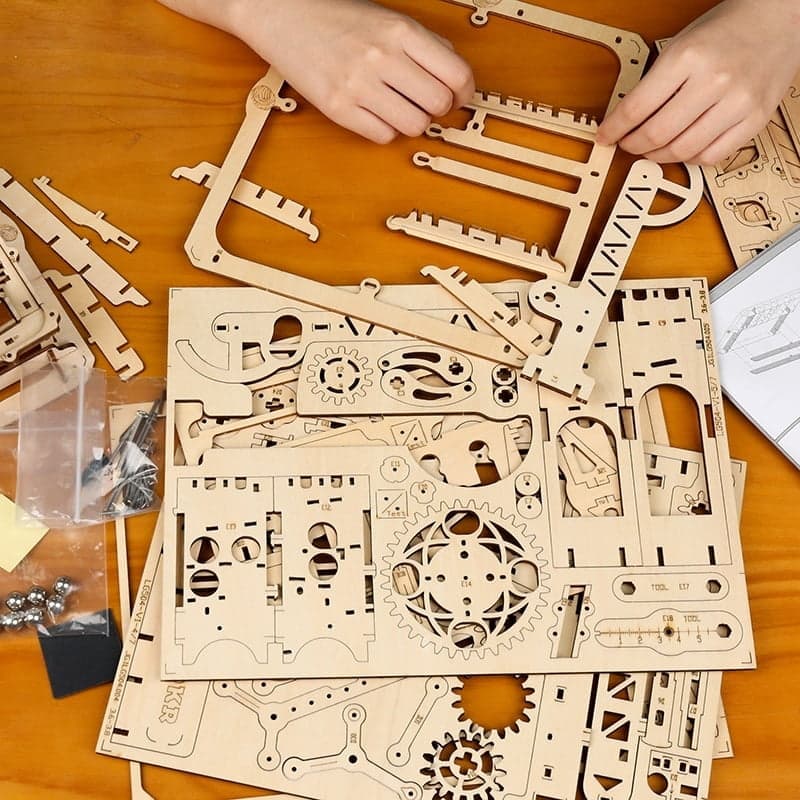 Assemble it!
Pick out the wooden pieces as steps shown.
Find out the corresponding parts and small tools according to the instructions  to start assembly.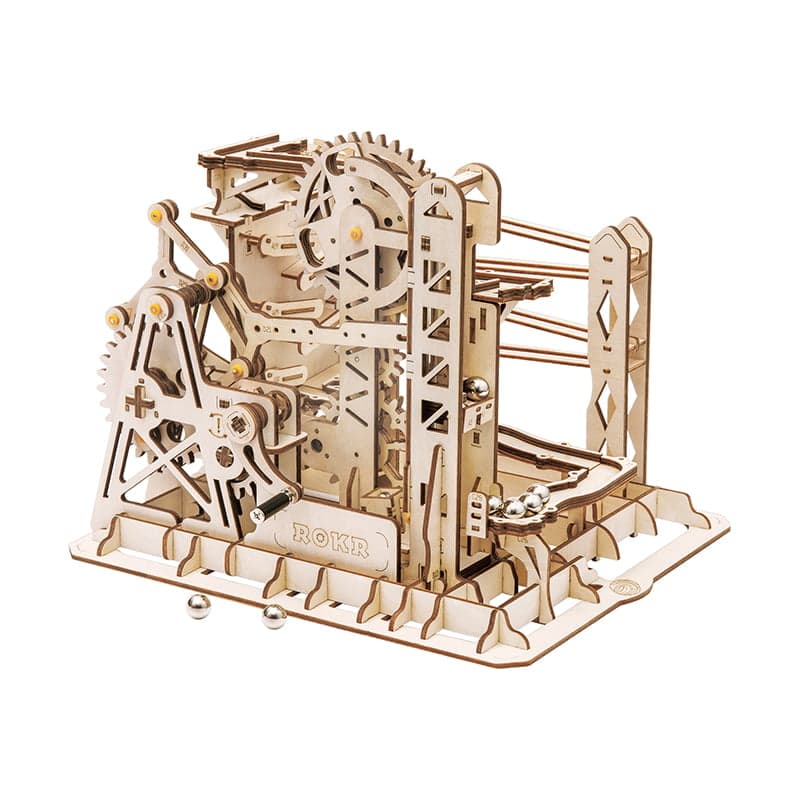 Move Forward!
Complete Marble Explorer!Take off steel balls in the package and put them at anywhere of this model.They will move along the track quickly.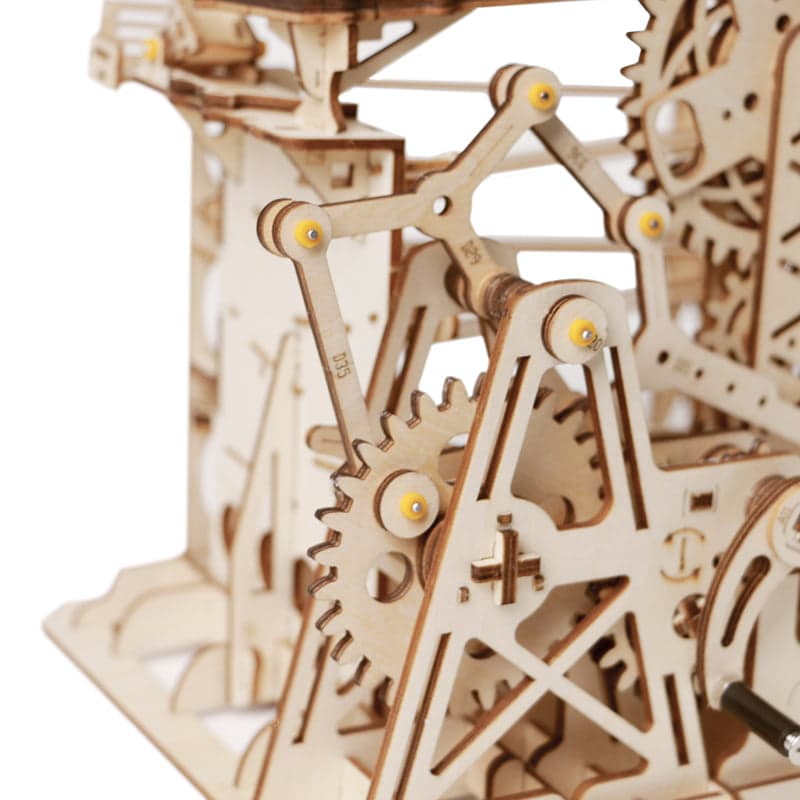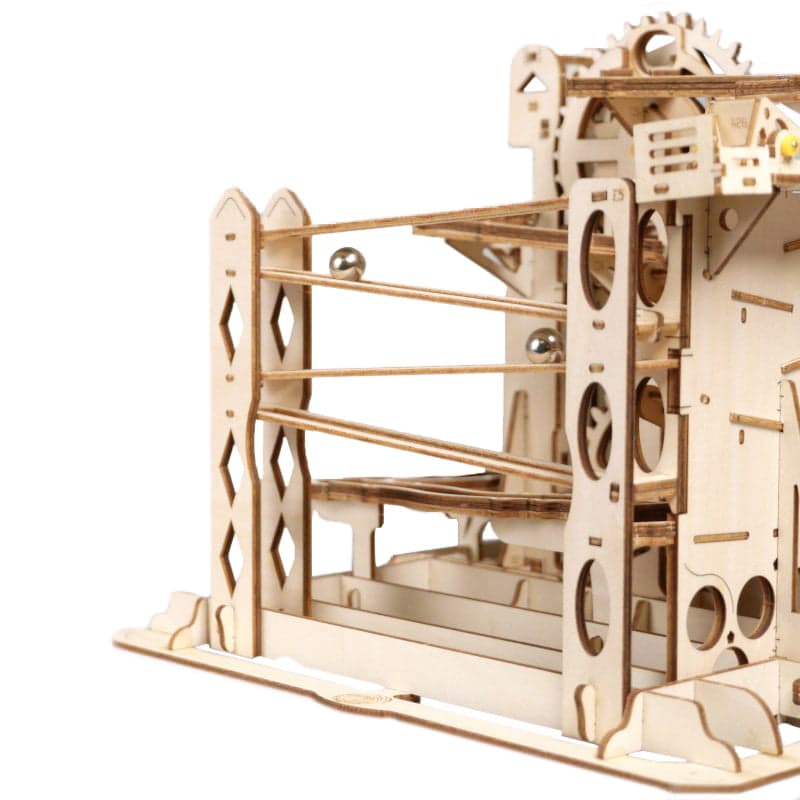 Stainless steel lifting slide track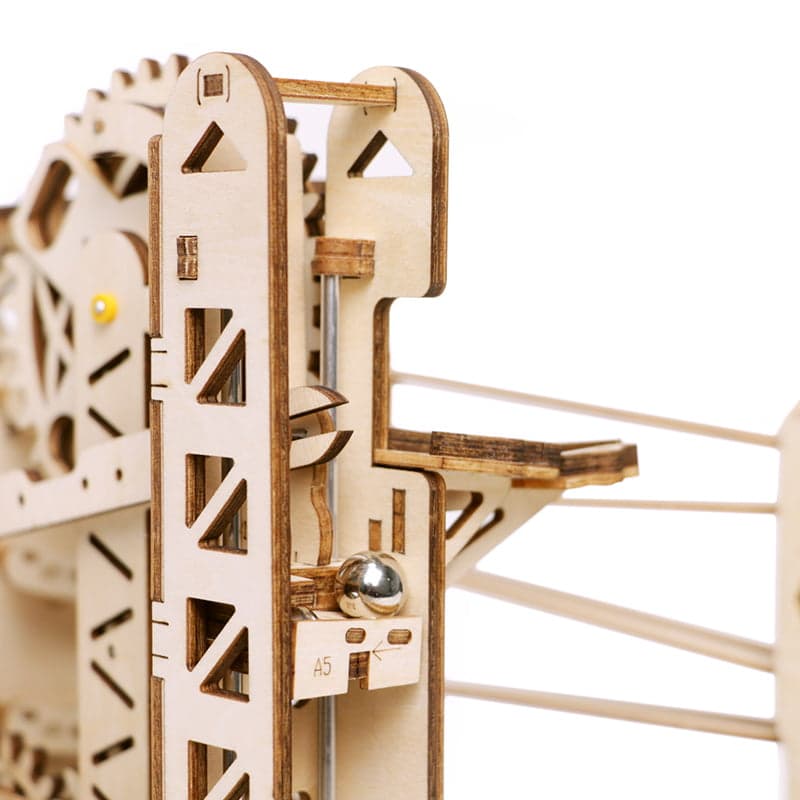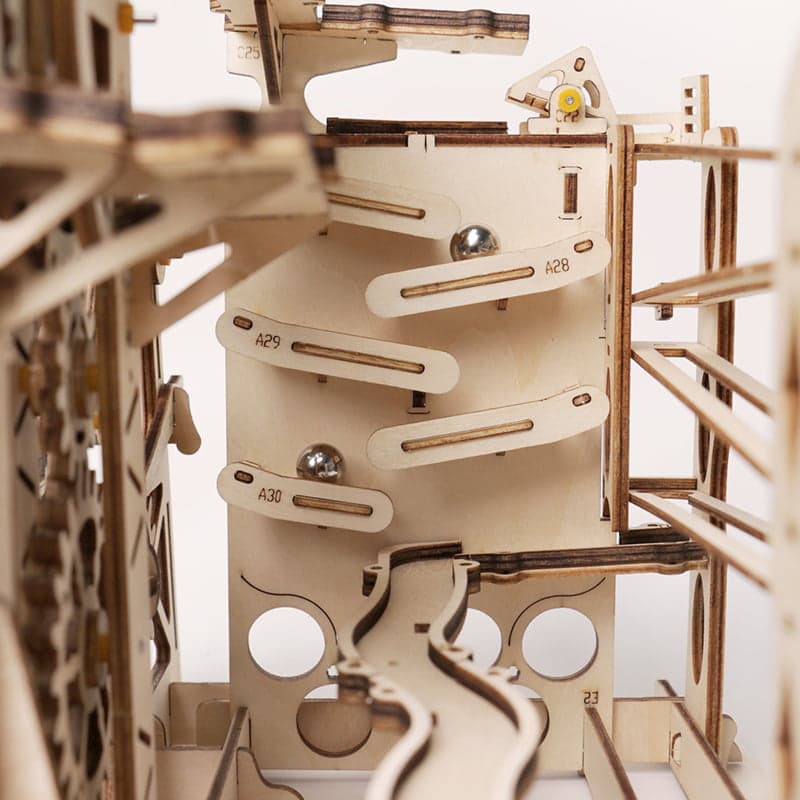 Raw Materials & Technology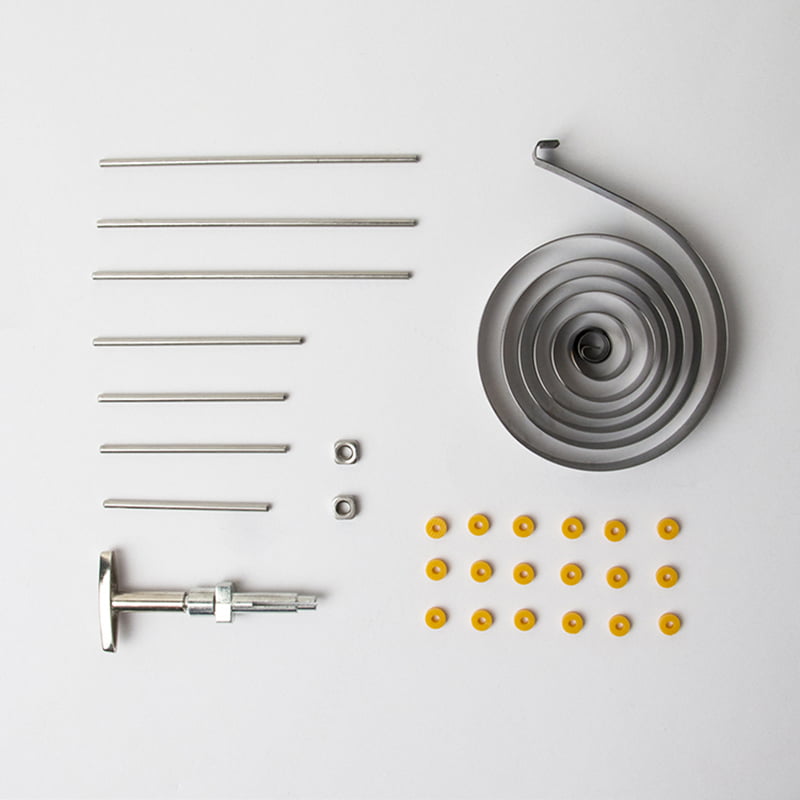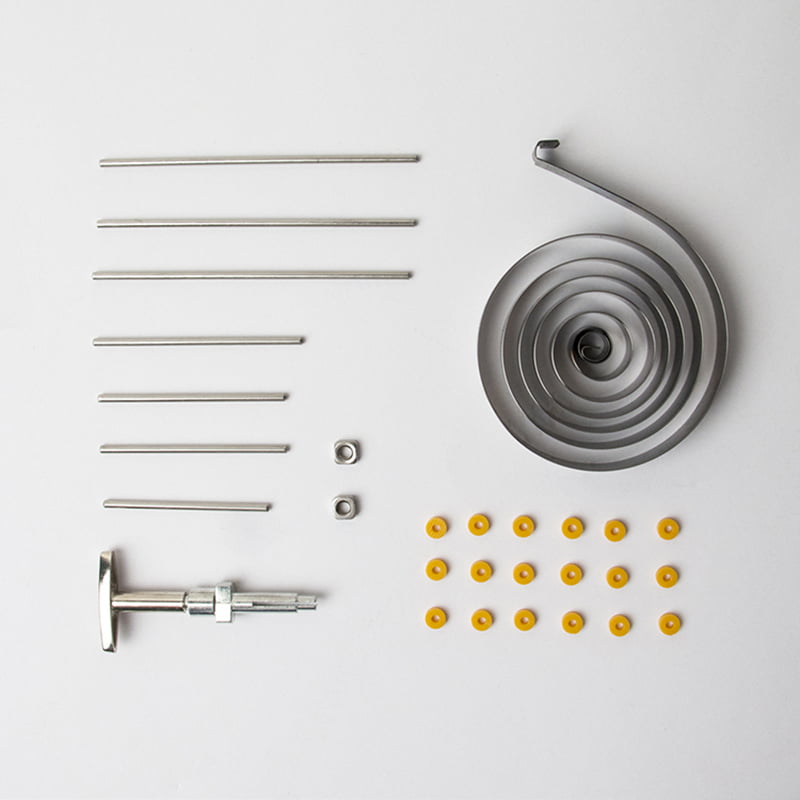 ROKR R & D team preferred customized parts for better durability.
Hundreds of suppliers from all over the world provide adaptive parts for a series of products, which are deeply customized to meet the design functions.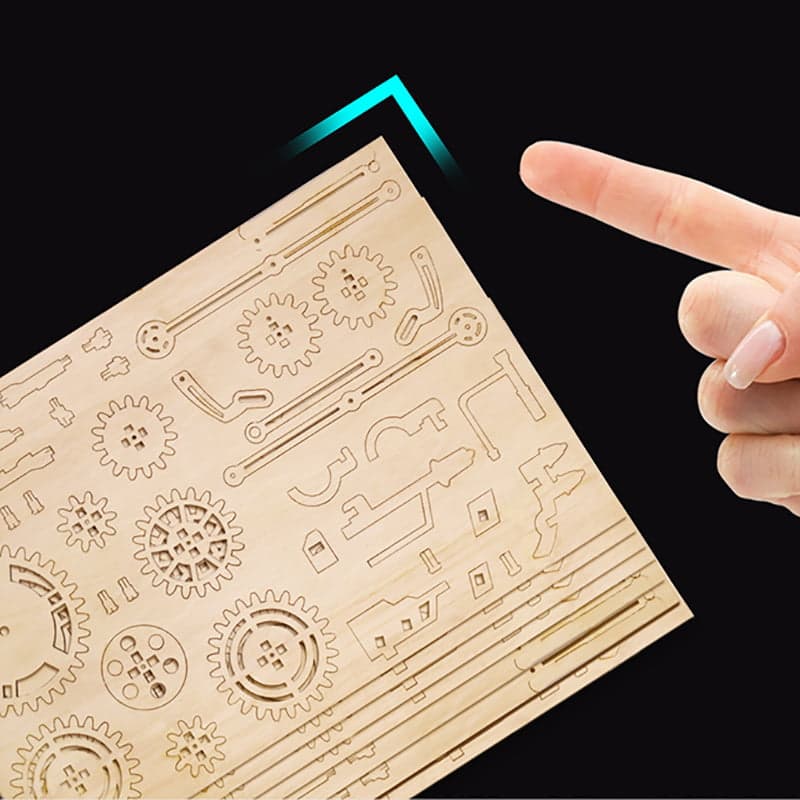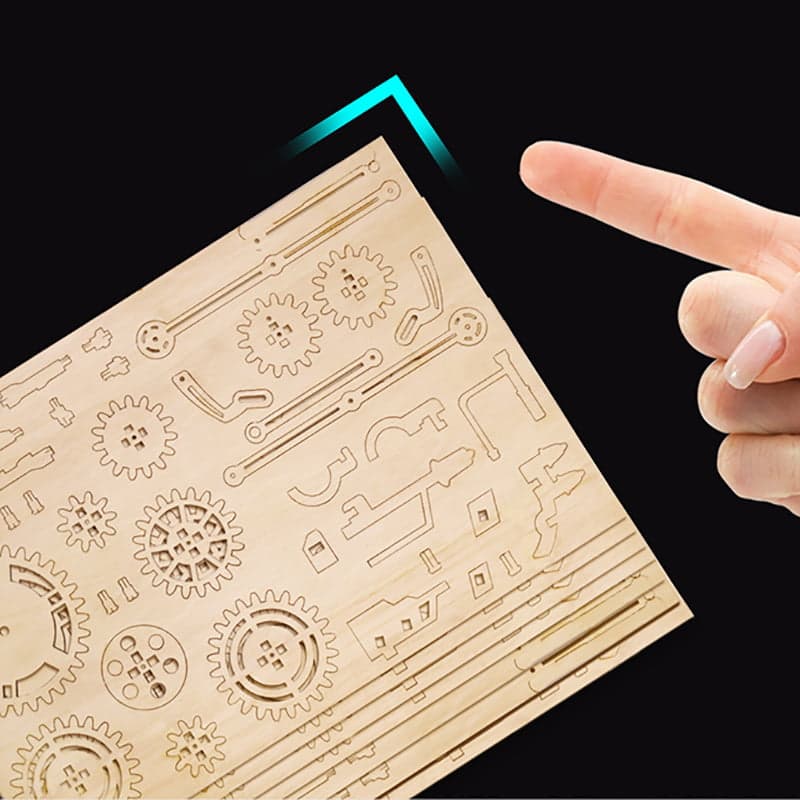 High precision steady-state laser cutting is adopted, and the process error is controlled within 5um, which is equivalent to 1 / 20 hair diameter.
Guarantee that all parts can fully fit and assemble, and each bayonet fits tightly.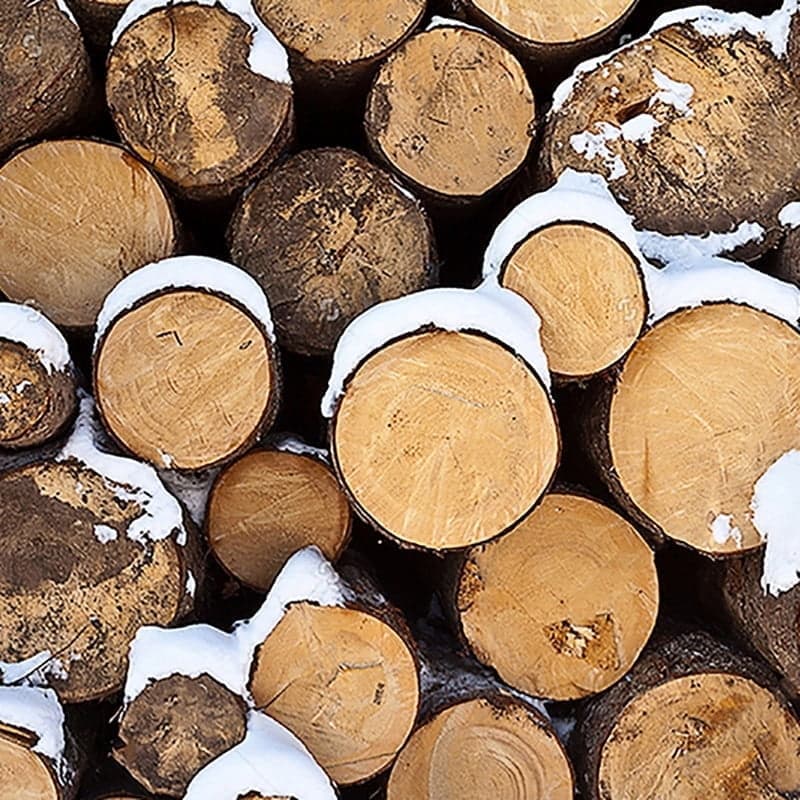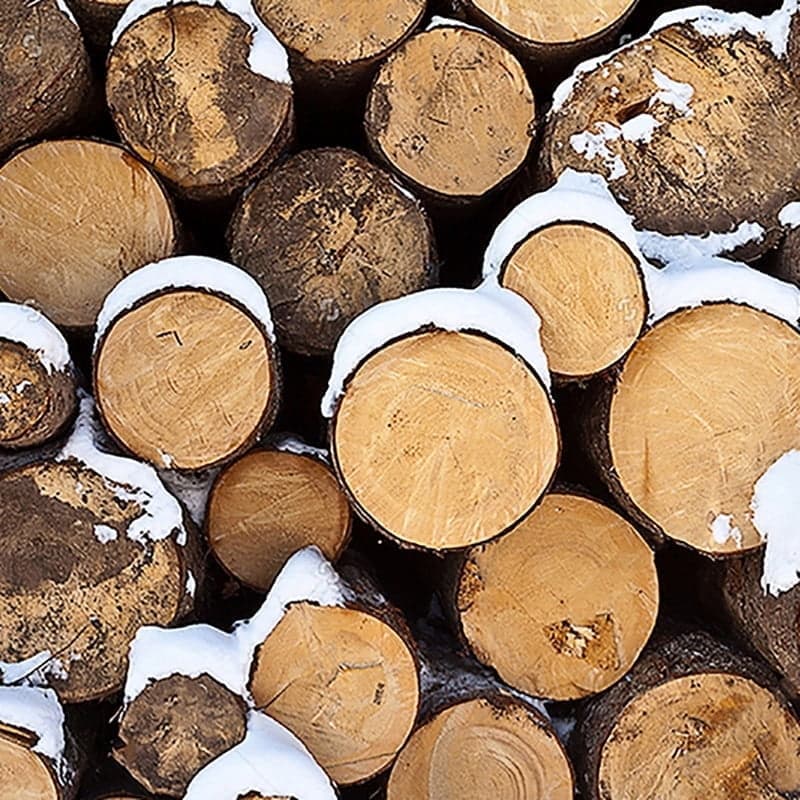 We choose basswood from the high latitude of the northern cold zone, which is strong and durable.
The wood grain is fine and uniform, showing silk luster, layered, wear-resistant, corrosion-resistant and not easy to crack.
SWINGBACK RAILS: LG503 Marble Explorer is a handcrafted marble set with a swingback-rail wall. Build it with 219 building pieces and 10 marbles.
MANY GEAR GADGETS: Consists of a crane lifter as an elevator, swingback rails, 2 straight rails, 2 curve rails, a flip-flop as a switch to drive marbles to 2 paths.
STEM CONCEPTS: Learn principles of Science,Technology, Engineering and Mathematics(STEM)
HOBBY & GIFT: Precise laser cutting ensure you a fluent building experience. Also a great gift for family and friends.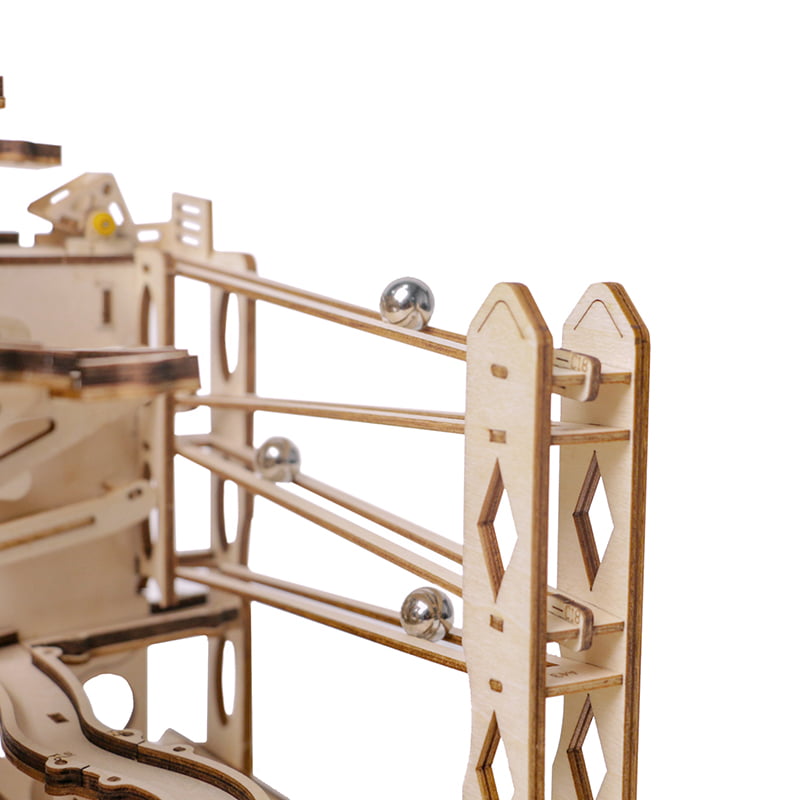 Detailed Instruction Book
There are clear and understandable pictures and texts in the manual. Take out the corresponding numbered wooden pieces and assemble them as pictures.In addition, we also have a detailed assembly video, which is posted on the official YouTube account.It is an outstanding Christmas or Birthday gift for those who loves to work with wood and loves a challenge,not only for teenagers,it will take around 7 hours' concentration to assemble properly.
Exercise your Brain
Hands-on way to exercise logic thinking and fine mental skills. In this process,kids would be more patient and prudent! It brings tremendous sense of accomplishment and can show it off to friends and family.