ROKR Locomotive LK701
Items Included: Wooden Pieces, Spring, etc
Number of Pieces: 349
Difficulty Level: ★★★★★☆
Assembly Time: About 6h
Age: 14+
Package Size: 370*250*50.5mm
Assembly Size: 370*120*185mm
CHALLENGING BUT FUN – The Mechanical Gear wooden puzzle is a fabulous design as home decor and a big challenge for model builders. Crafting requires patience and dexterity, a test of your hands and eyes.
Description
It is said that the name of the first train in the world was Thomas. But, my friend, it's conditional. Thomas can only be regarded as the earliest train in animation. The actual train was built by British inventor George Stevenson, who was known as the "father of the train" in history. He made a steam locomotive in 1814, named the Blucher, which was a big guy.The Blucher can pull eight carriages, with a load capacity of 30 tons and an average speed of 4 miles per hour, which is about 1.78 meters per second. Stevenson's success lies in his development of tracks with appropriate hardness and the transformation of new valves and wheel connecting rods, which have become the primary mechanism of steam locomotives for decades.
What brought him a lot of fame and wealth was that he vigorously promoted the civilian use of trains and achieved the title of "father of trains."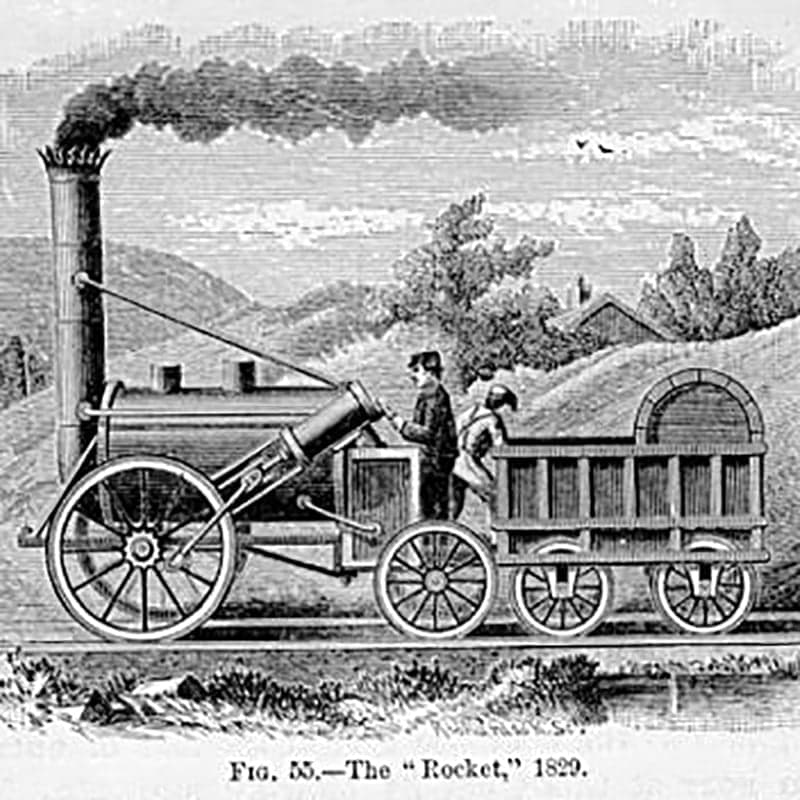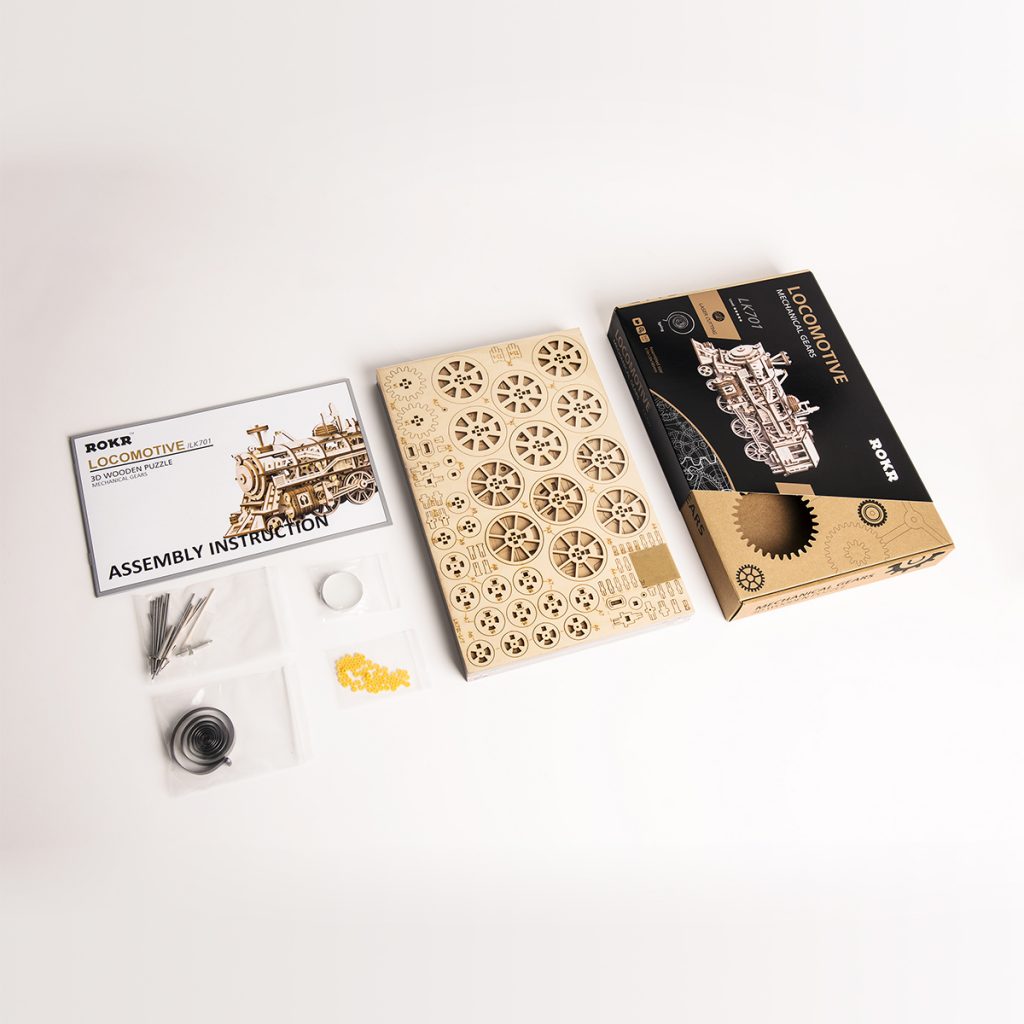 PACKAGE INCLUDED
Exquisite Package.
Pre-cut Wood Sheets.
Accessory Tools.
English Instruction Book.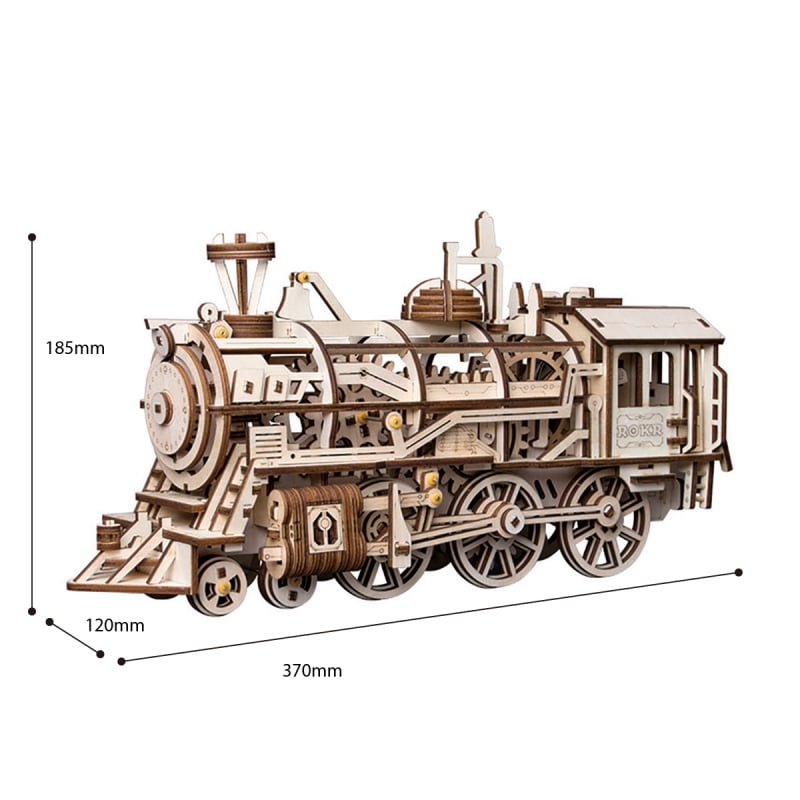 STEP 1
Pick out the wooden pieces as steps shown.
Find out the corresponding parts and small tools according to the instructions to start assembly.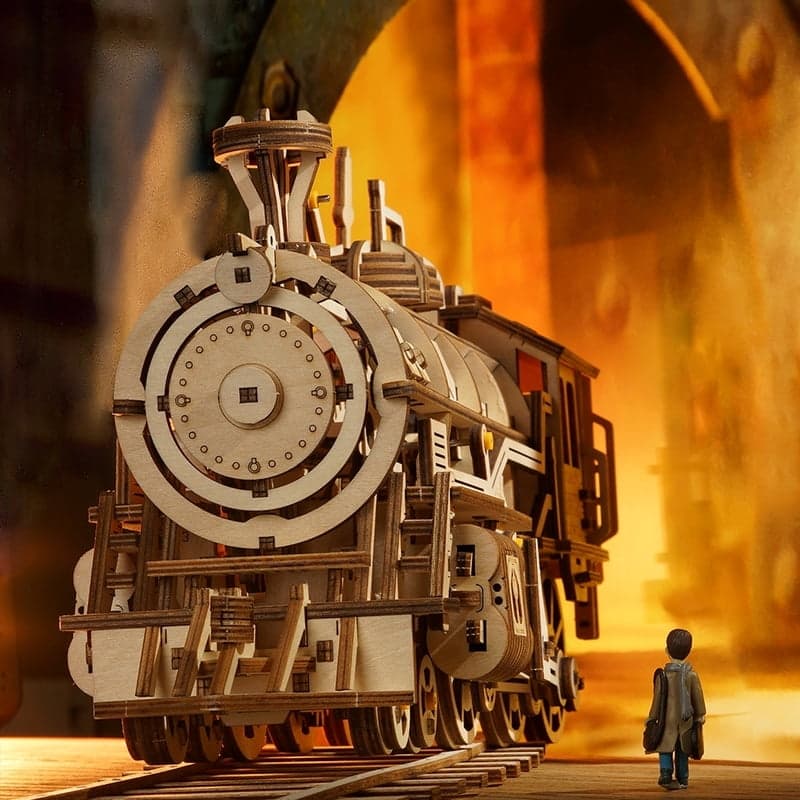 STEP 2
Now, you can get a mini locomotive! It is suitable for being a display on your desk. Or give your children or friends as a gift!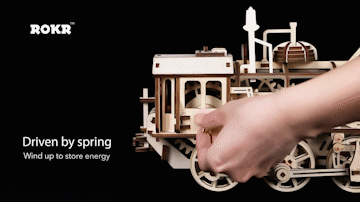 How to make it forward?
Take the locomotive you have just assembled to the flat ground or desk.
Rotate the spring on its left side, then it will move forwards.
DIY TIPS
It looks fantastic in a raw finish, but one of the nice things about a kit is you can make it your own, so feel free to personalize as you wish. The Locomotive is made from plywood so that you can apply just about anything, including paint or lacquer.
It's better to paint before assembly, as getting a brush into every little section would be fiddly once it's finished. The moving gears must be carefully aligned, and excess paint may prevent these parts from moving. If necessary, lightly sand your paint on parts that need adjusting.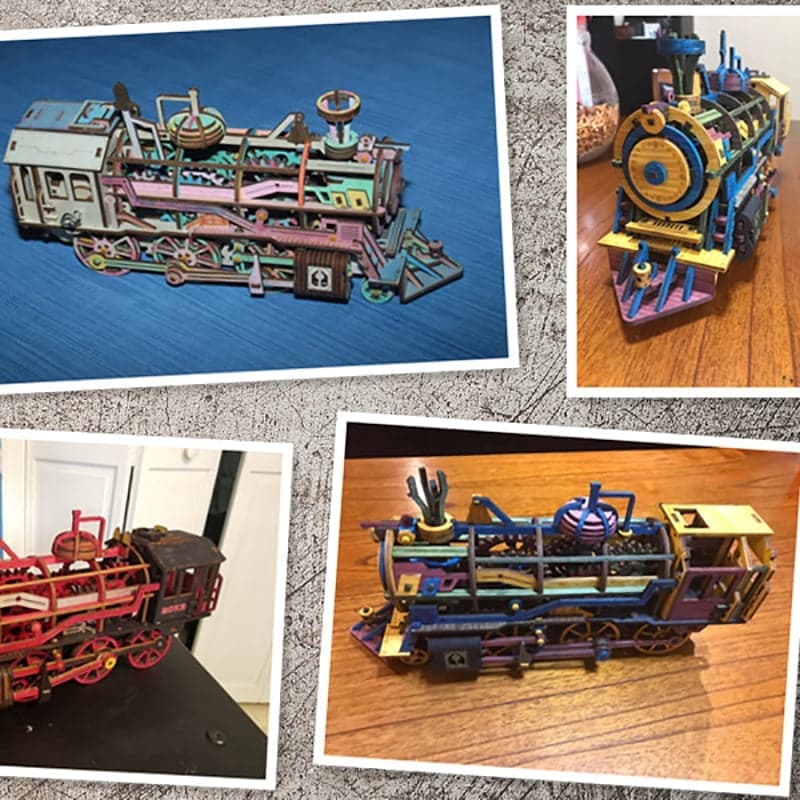 Raw Materials & Technology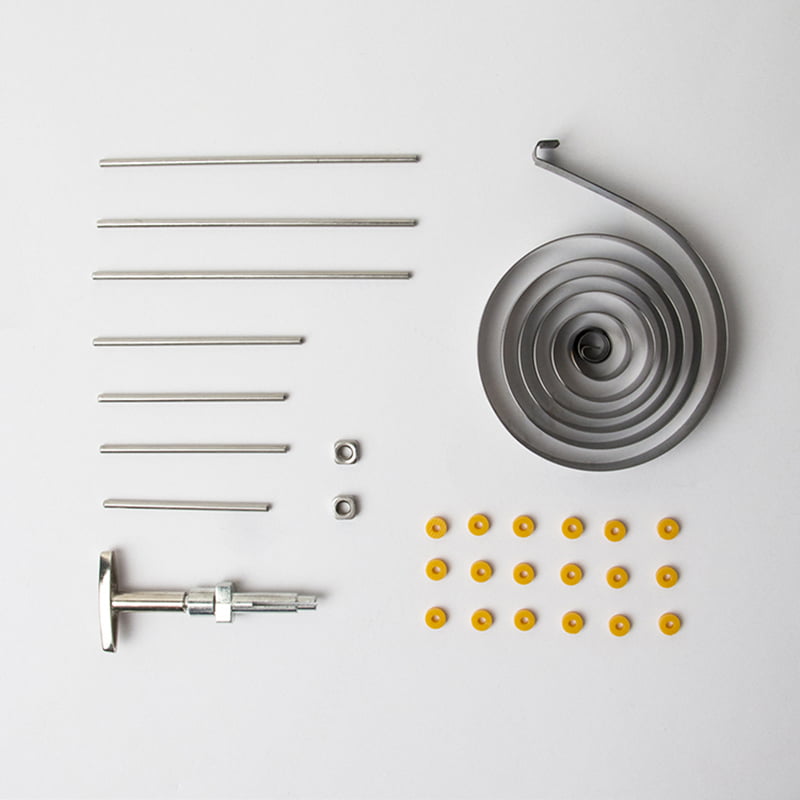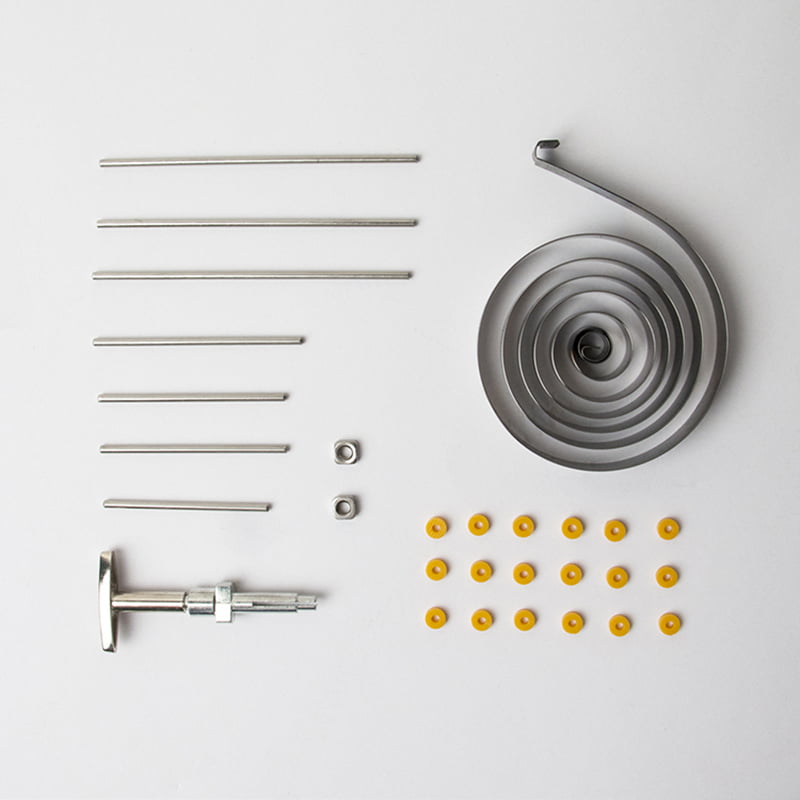 ROKR R & D team preferred customized parts for better durability.
Hundreds of suppliers from all over the world provide adaptive parts for a series of products, which are deeply customized to meet the design functions.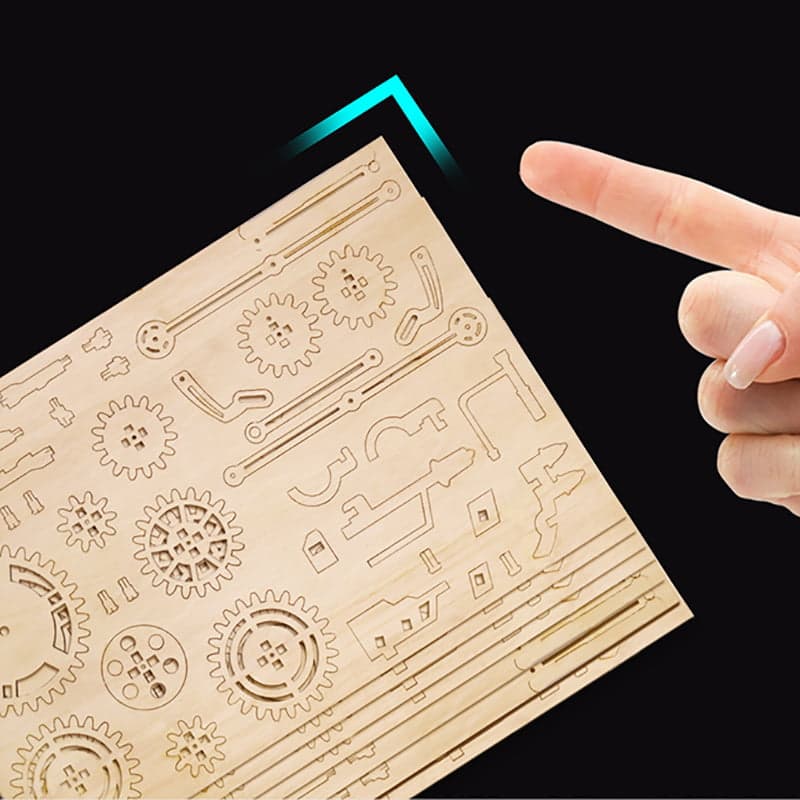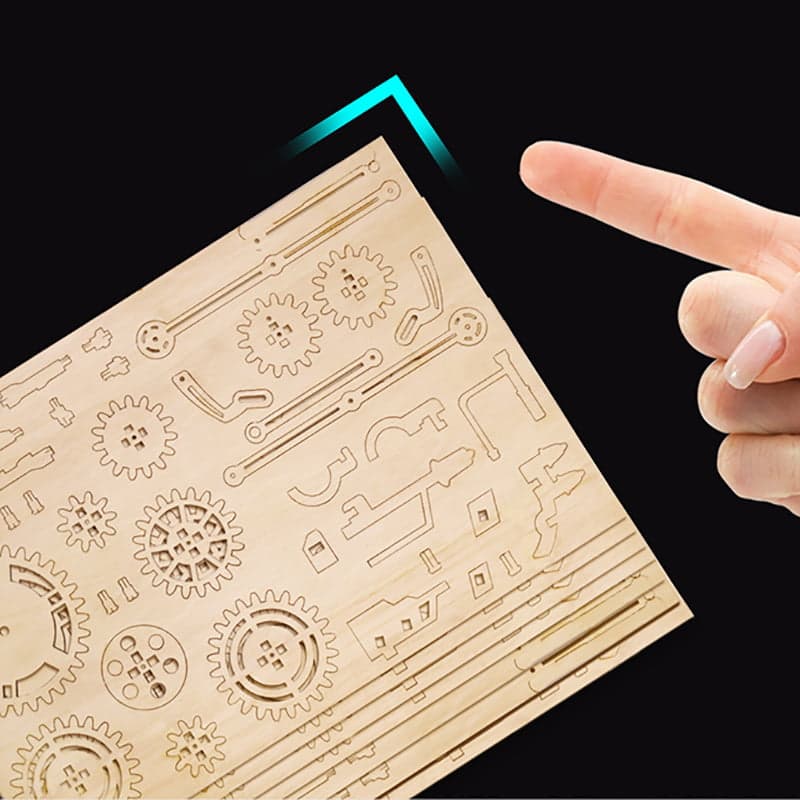 High precision steady-state laser cutting is adopted, and the process error is controlled within 5um, which is equivalent to 1 / 20 hair diameter.
Guarantee that all parts can fully fit and assemble, and each bayonet fits tightly.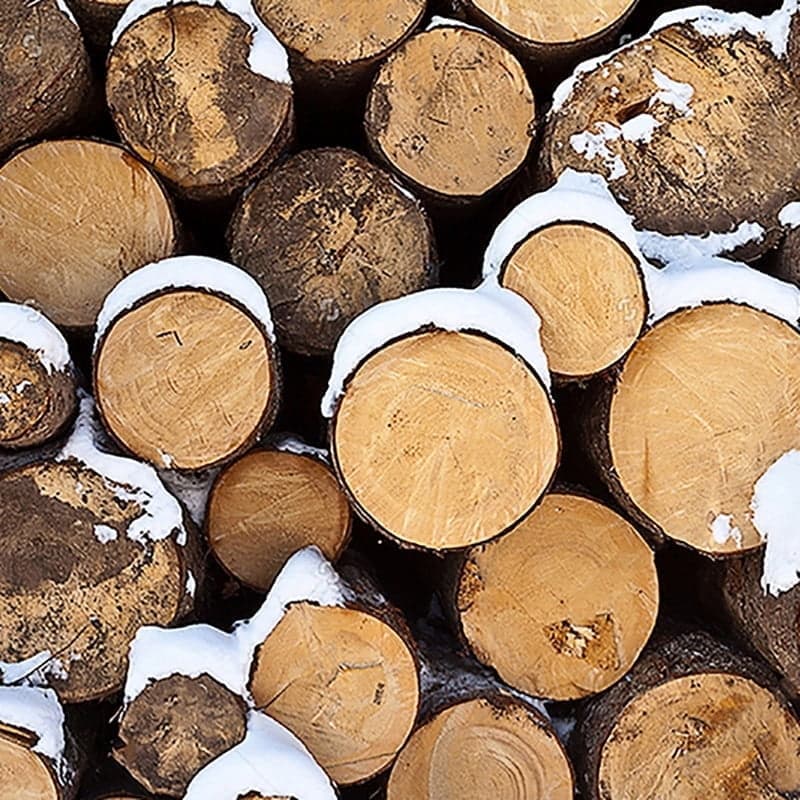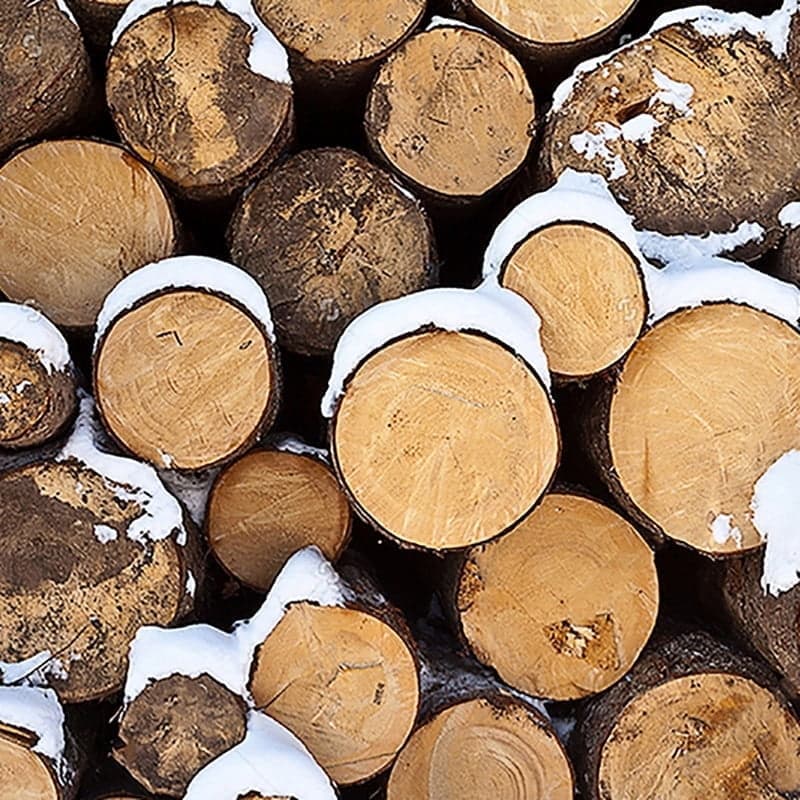 We choose basswood from the high latitude of the northern cold zone, which is strong and durable.
The wood grain is fine and uniform, showing silk luster, layered, wear-resistant, corrosion-resistant and not easy to crack.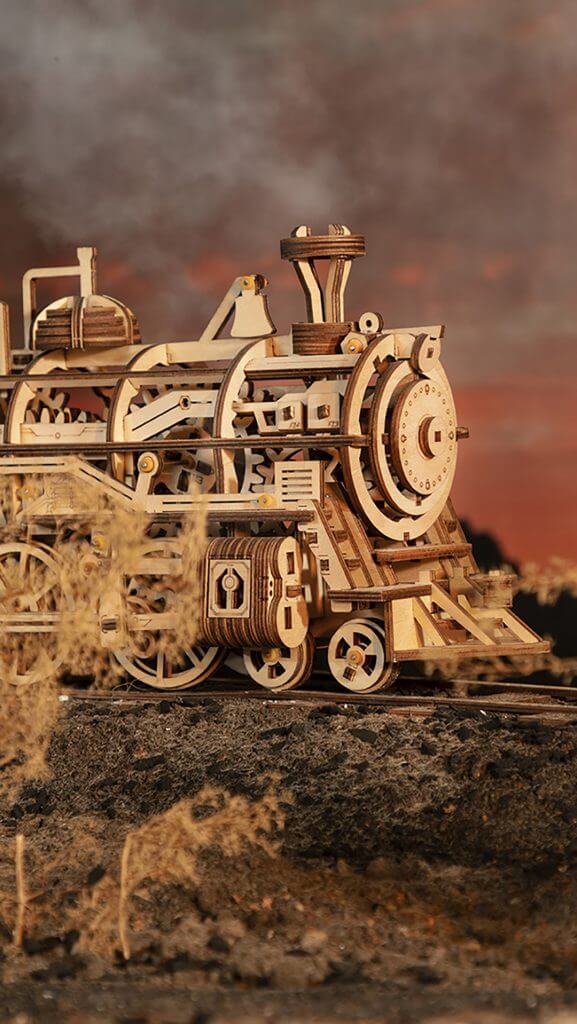 Self-Propelled Wooden Puzzle
The wooden mechanical gear toy is operated by a hand-wound spring. No battery, no other power needed, self-propelled, but you need to use a little wax and the tool provided to make it move smoothly. 
The" Mechanical Model "series does not require any power; physical principles can operate it. Finally presents a sophisticated three-dimensional wooden model.
ROKR Locomotive Mechanical Gears Wooden Model Kit to Build
Don't just be a trainspotter; become a train owner! This form of transport has been with us for hundreds of years, but as any fan will tell you, the appeal of trains is far greater than mere transport. The clickety-clack track. The countless journeys of thousands of people. The wind rushes past you as the express service screams through your station and waves you goodbye.
Exercise your Brain
Hands-on way to exercise logic thinking and fine mental skills. In this process, kids would be more patient and prudent! 
It brings tremendous sense of accomplishment and can show it off to friends and family.