ROKR Vintage Car MC801
Items Included: Wood, Plywood,etc
Number of Pieces: 298
Difficulty Level: ★★★★☆☆
Assembly Time: About 4h
Age: 14+
Assembly Size: 190*92*115mm
Package Size: 228.5*153.5*18mm
1:15 SCALE MODEL VEHICLE – The vintage car is designed as a 1:15 Scale Model Vehicle, featuring retro and detailed creation.
Description
Once upon a time, in a bustling city where modernity reigned, a little toy car named Vintage Car emerged as a reminder of days gone by. Vintage Car was a symbol of a bygone era, where open roads stretched endlessly and carefree spirits cruised to the tunes of rock 'n' roll. Its retro design, inspired by classic automobiles of the mid-20th century, captured the essence of a time when simplicity and style collided.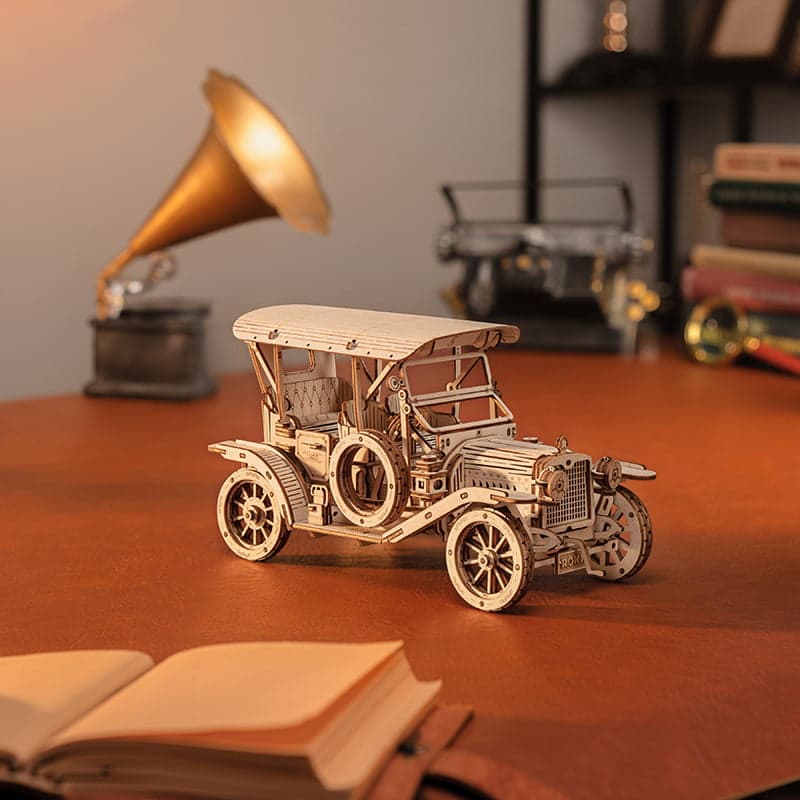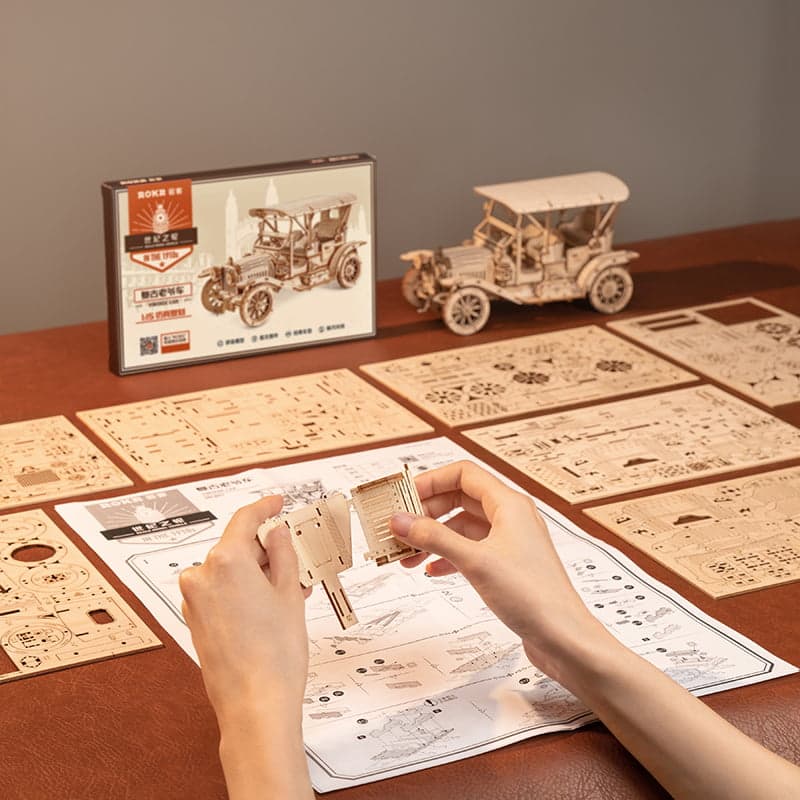 STEP 1
Take out wooden pieces, and assemble the car as per the manual.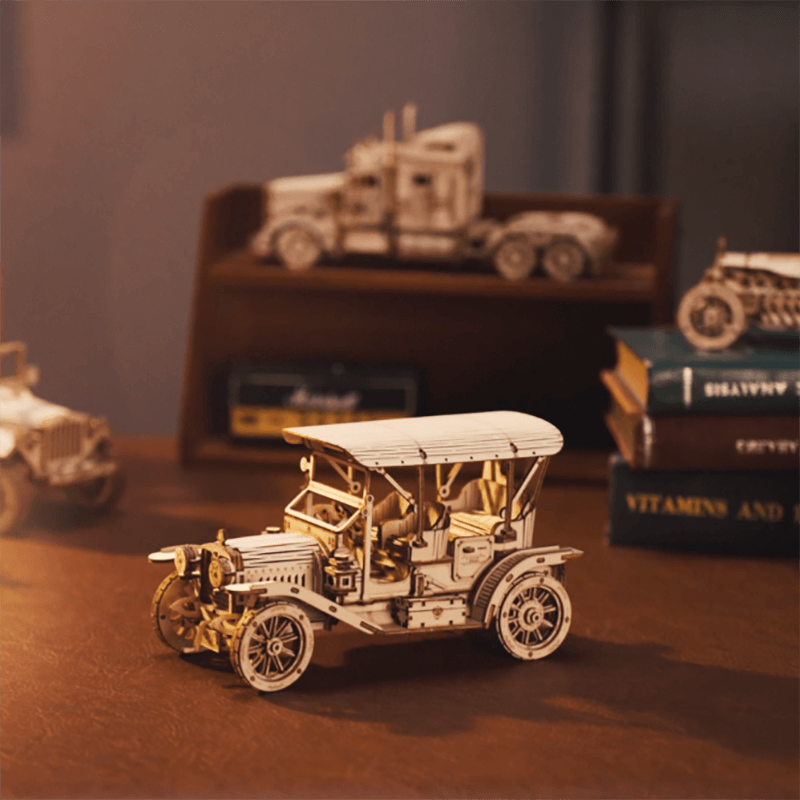 STEP 2
Place it on a flat desk or ground after assembling.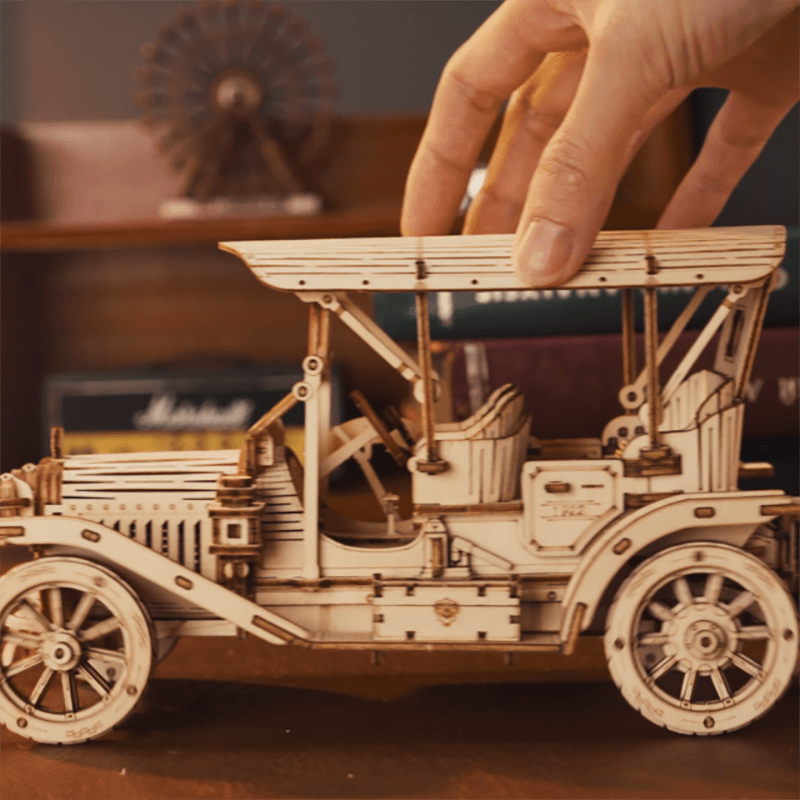 STEP 3
Manually push the car to let it move.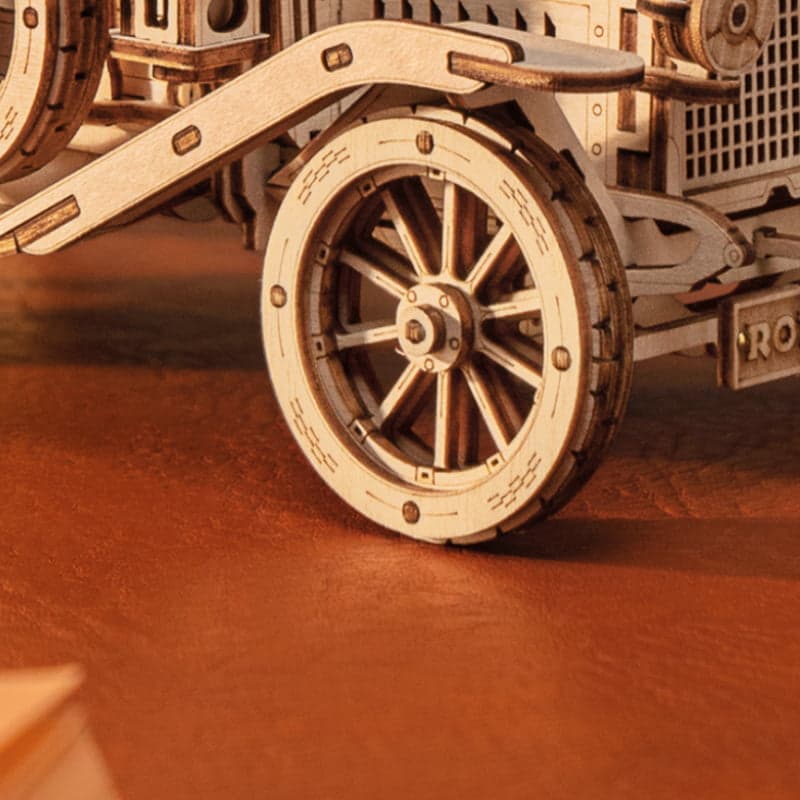 Flexible wheels
Push the car to experience the life pace of the past.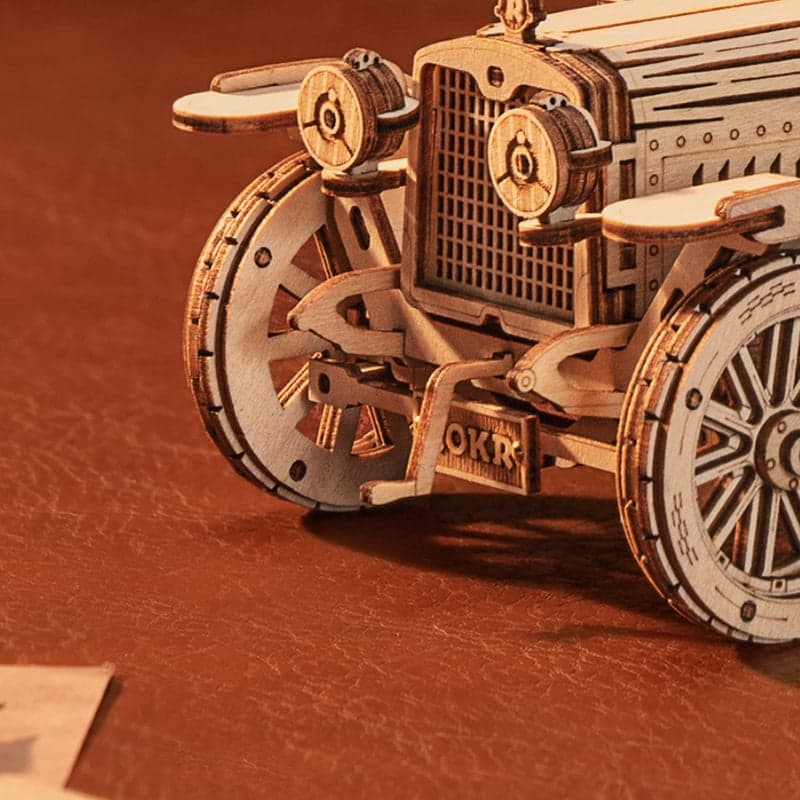 Hand-cranked starter
Witness the ancient way to start a car.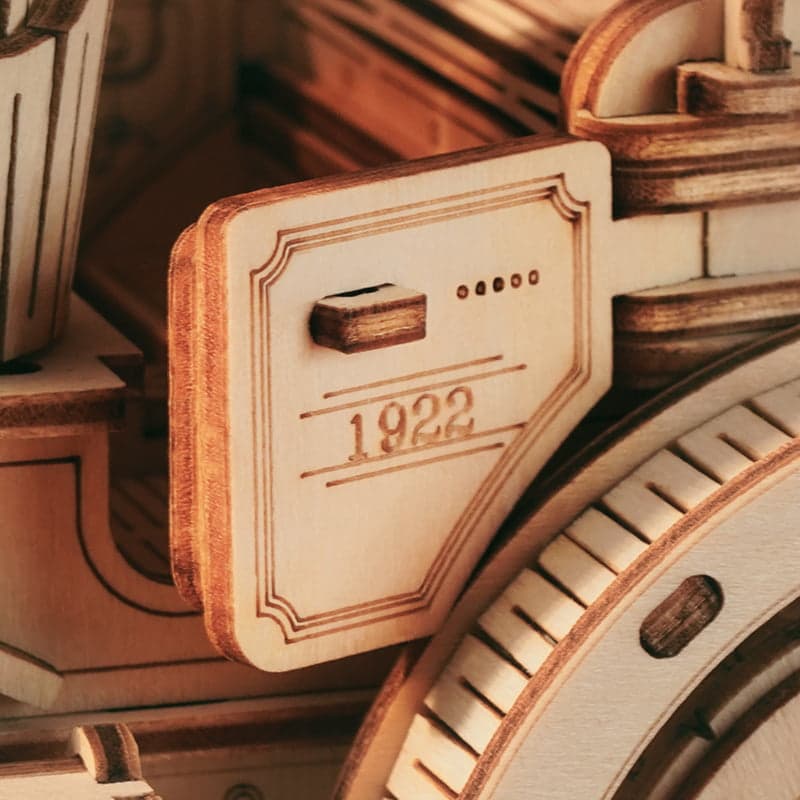 Openable door
Recreate the elegance of the car in the 1910s.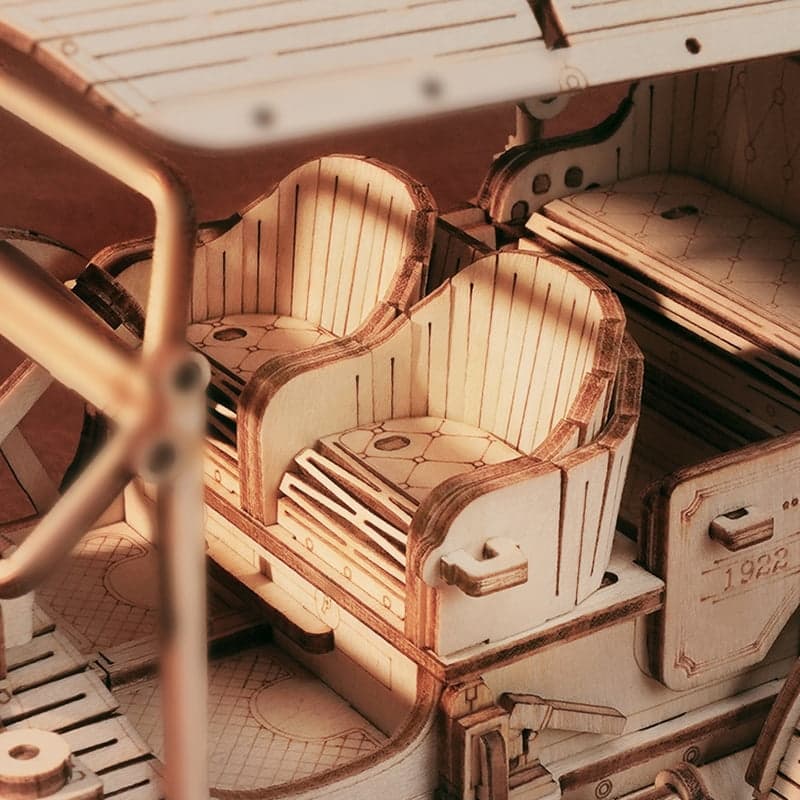 Sofa-style seats
Savor your trip with the creative design.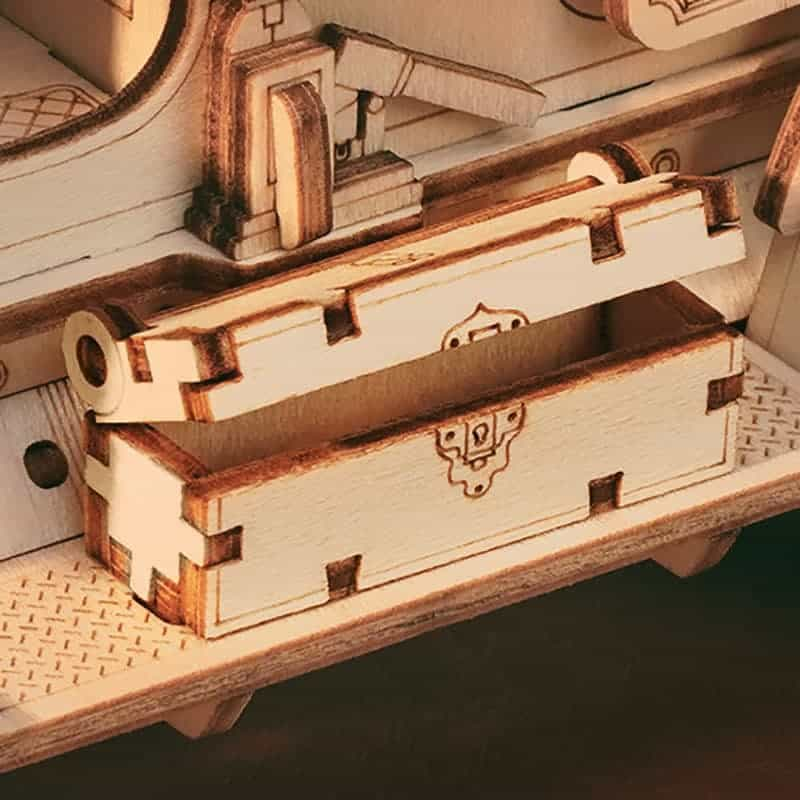 Tool box
Prepare necessary repair tools in this practical box.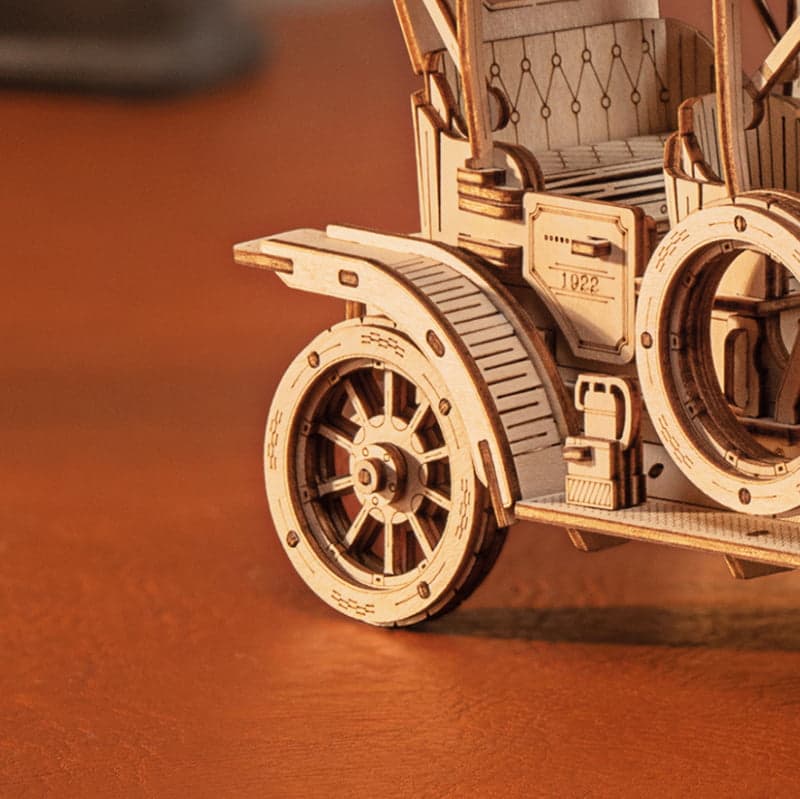 Steamlined fenders
Protect the car's paint from debris, rocks, and mud.
Historical Changes of the Car Starter
Since the 1900s-Hand crank starter
The operator needs to manually turn the handle a few times to crank the engine, which need a lot of muscle and strength.
Since 1912-Electric starter
It prevents the danger of the hand-cranked handle as cars will backfire id drivers forget to turn off the fire before turning the handle.
Since 1949-Key ignition  switch
Drivers insert the keys and turn them to fire. They had undergone several revolutions from mechanical keys to keys that can remotely control cars.
Recent days-Smart starter
In this high-tech age, ways get more efficient. Drivers download apps on their phones and control cars by operating phones.
Raw Materials & Technology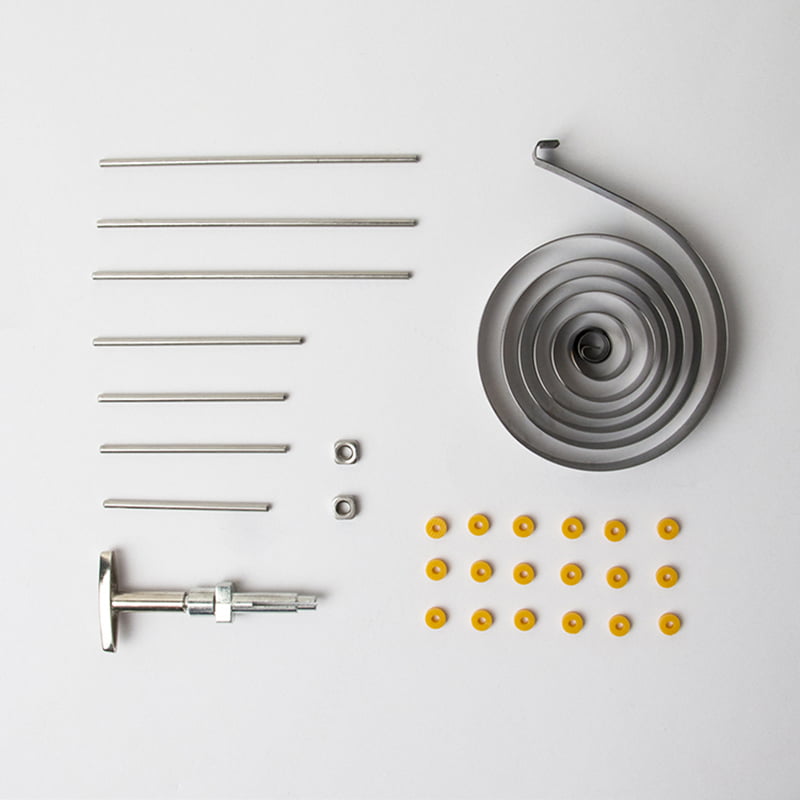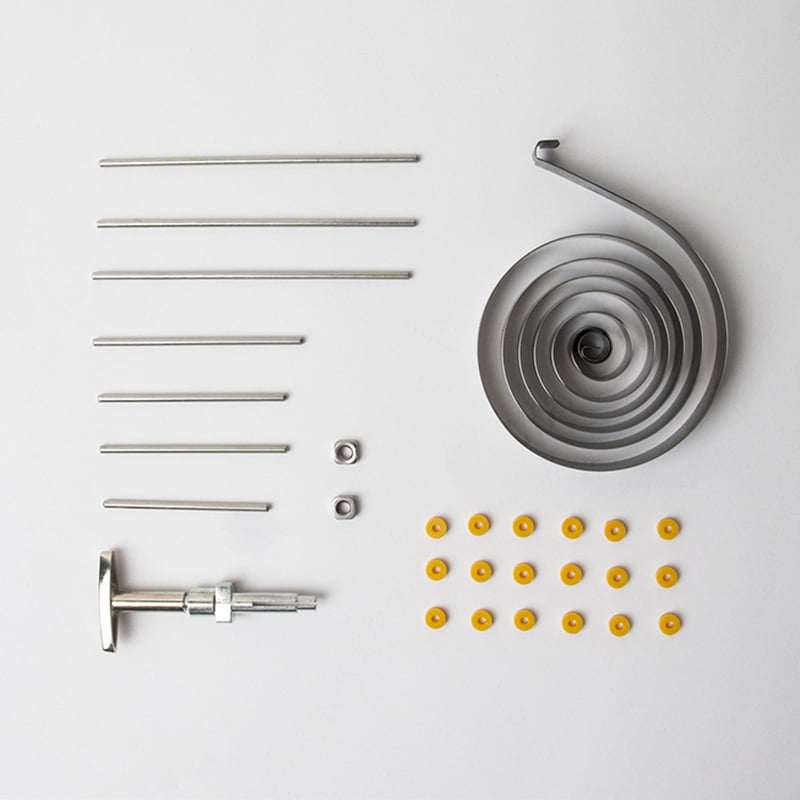 ROKR R & D team preferred customized parts for better durability.
Hundreds of suppliers from all over the world provide adaptive parts for a series of products, which are deeply customized to meet the design functions.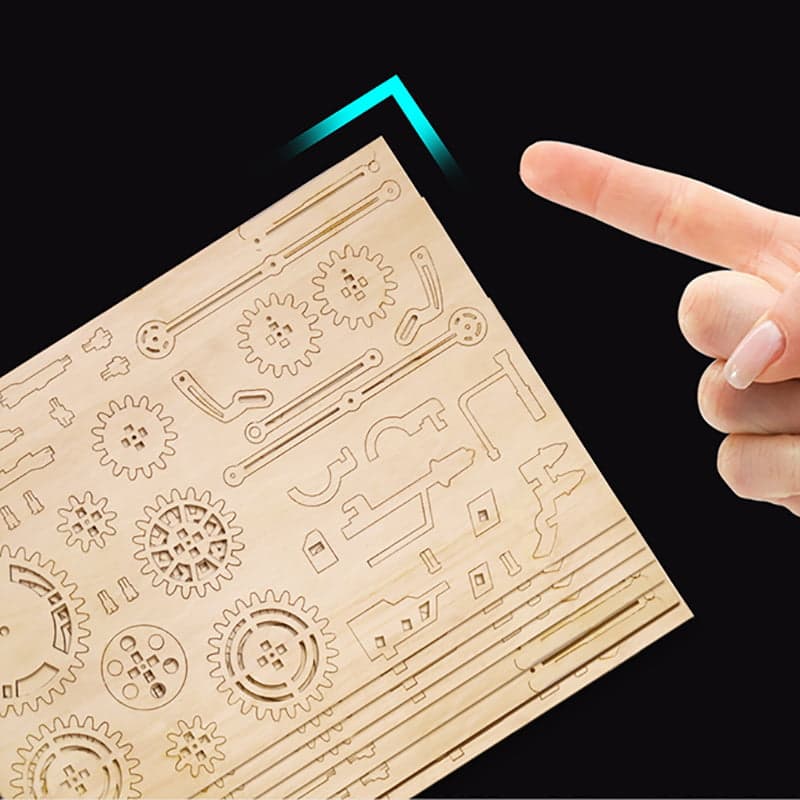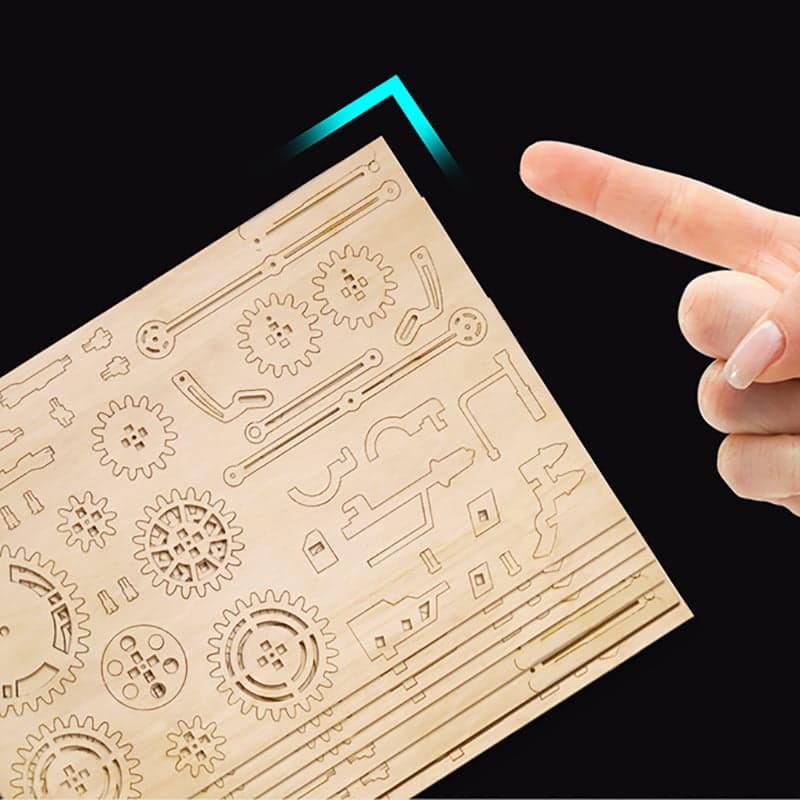 High precision steady-state laser cutting is adopted, and the process error is controlled within 5um, which is equivalent to 1 / 20 hair diameter.
Guarantee that all parts can fully fit and assemble, and each bayonet fits tightly.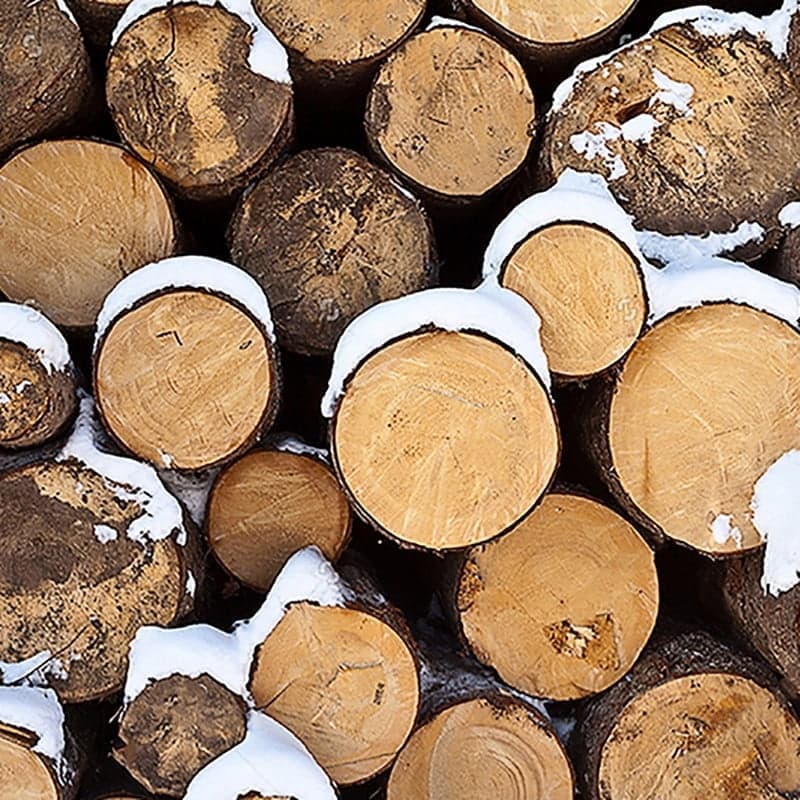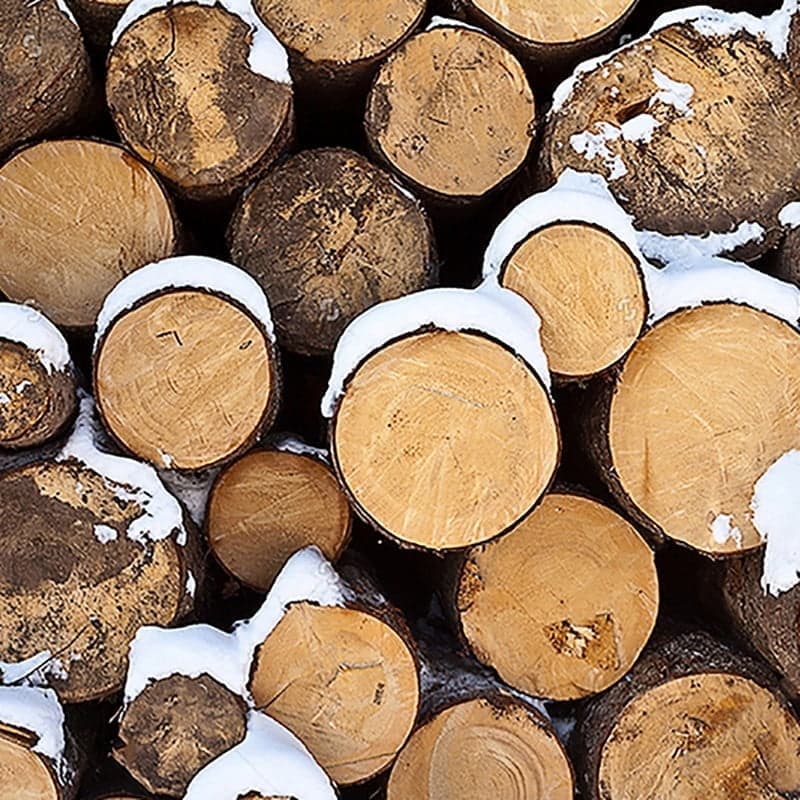 We choose basswood from the high latitude of the northern cold zone, which is strong and durable.
The wood grain is fine and uniform, showing silk luster, layered, wear-resistant, corrosion-resistant and not easy to crack.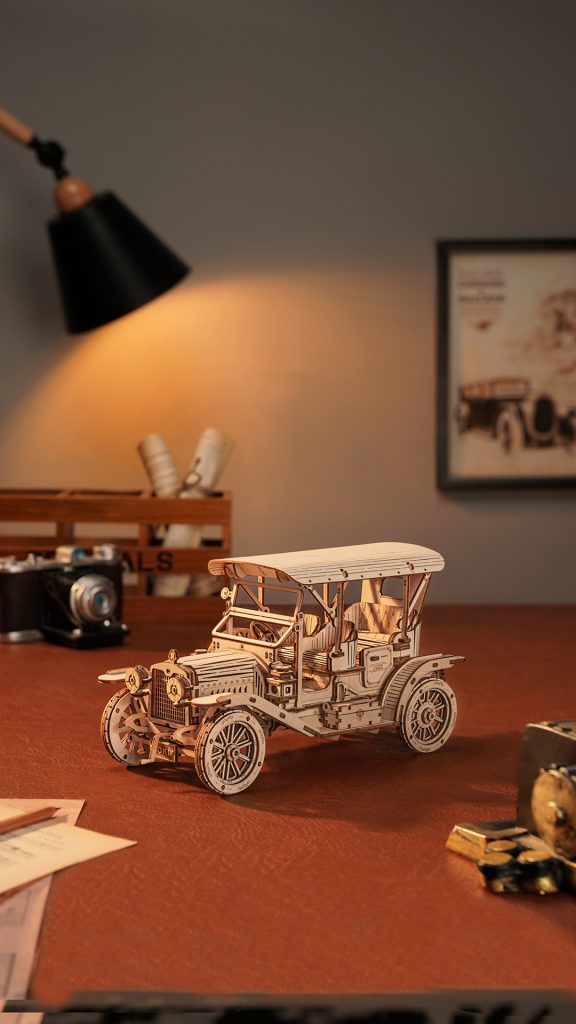 Detailed Instruction Book
There are clear and understandable pictures and texts in the manual. Take out the corresponding numbered pieces and assemble them as pictures. In addition, we also have a detailed assembly video, which is posted on the official YouTube account.
Exercise the Brains of Kids
As assembling small parts of the car requires precise hand-eye coordination and manipulation of objects, this vintage car must be a good choice to boost the brain. It helps children develop their fine motor skills, which are essential for activities like writing and drawing.
A Great Gift to Kids
Kids can be easily attracted by this vintage car as it provides an interesting assembling experience. Besides, kids can enjoy memorable interactions with either parents or friends with its rotatable wheels.
Rewarding Assembly
The delicate model needs your patience and concentration. But the grand result will be rewarding.