ROKR Assault Rifle AK-47 LQ901
Items Included: Wooden pieces, rubber bands, etc
Pieces: 315 pcs
Difficulty Level: ★★★★☆☆
Assembly Time: About 6h
Age: 14+
Package Size:453.5*153.5*49mm
Assembly Size: 720*55*220mm
NEW WOODEN ASSEMBLY MODEL – a realistic simulation assault rifle! This unique toy allows you to experience the thrill of assembling your very own rifle, complete with intricate wooden parts and a lifelike design. Perfect for children and adults alike, this toy offers an engaging and challenging building experience that results in a stunning finished product. Get ready for hours of fun and adventure with our simulation assault rifle wooden assembly toy!
Description
This firearm, born in the Soviet Union, has been the world's most popular automatic rifle since its inception due to its low cost, high reliability, and practicality. With over 50 million units produced, it has become the undisputed "king of rifles" for the past half-century.
Now, ROKR has resurrected this classic firearm by reconstructing and restoring the appearance of the AK rifle through a wooden tenon and mortise structure. It features a sophisticated internal mechanism that allows for automatic and single-shot firing modes, as well as bolt-action loading. Simply flip the side selector switch to switch between precise single shots and a 12-round burst, showcasing the allure of the "king of rifles" to every hardcore gamer.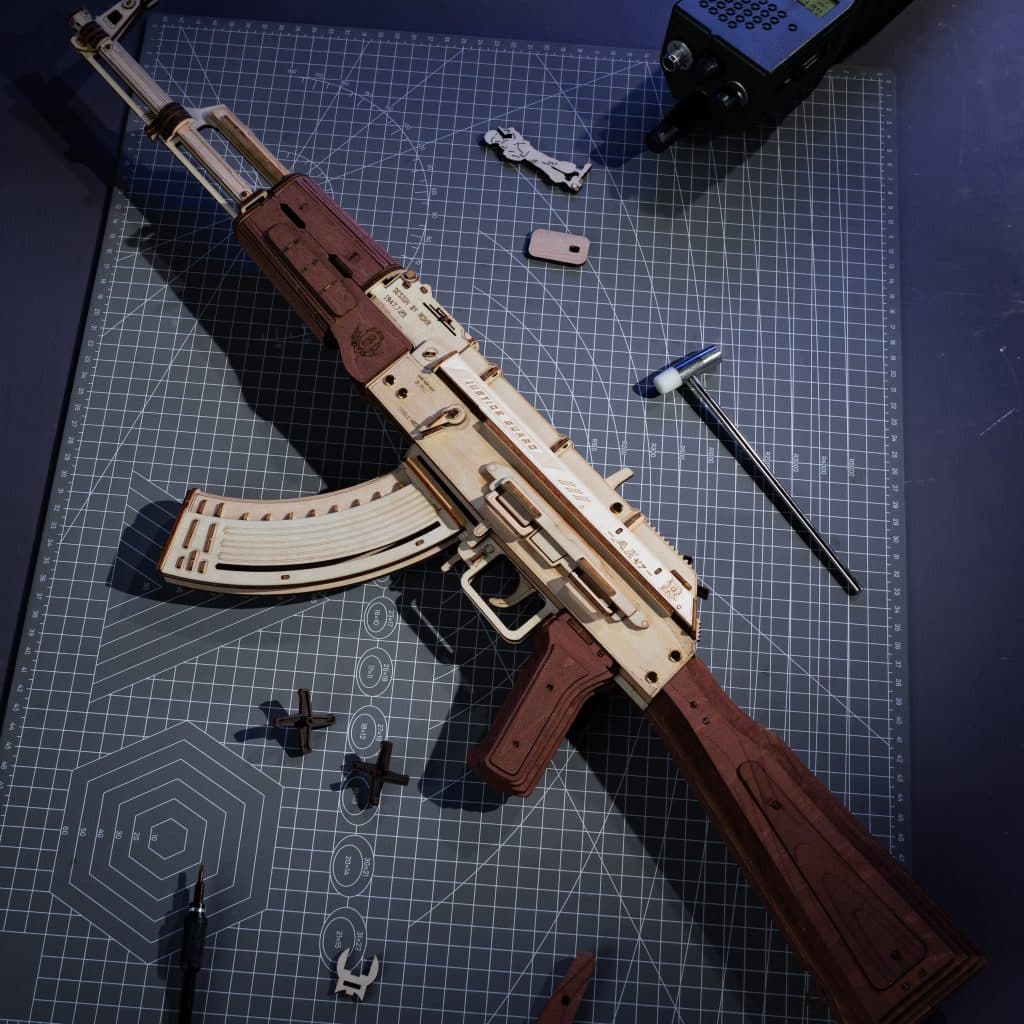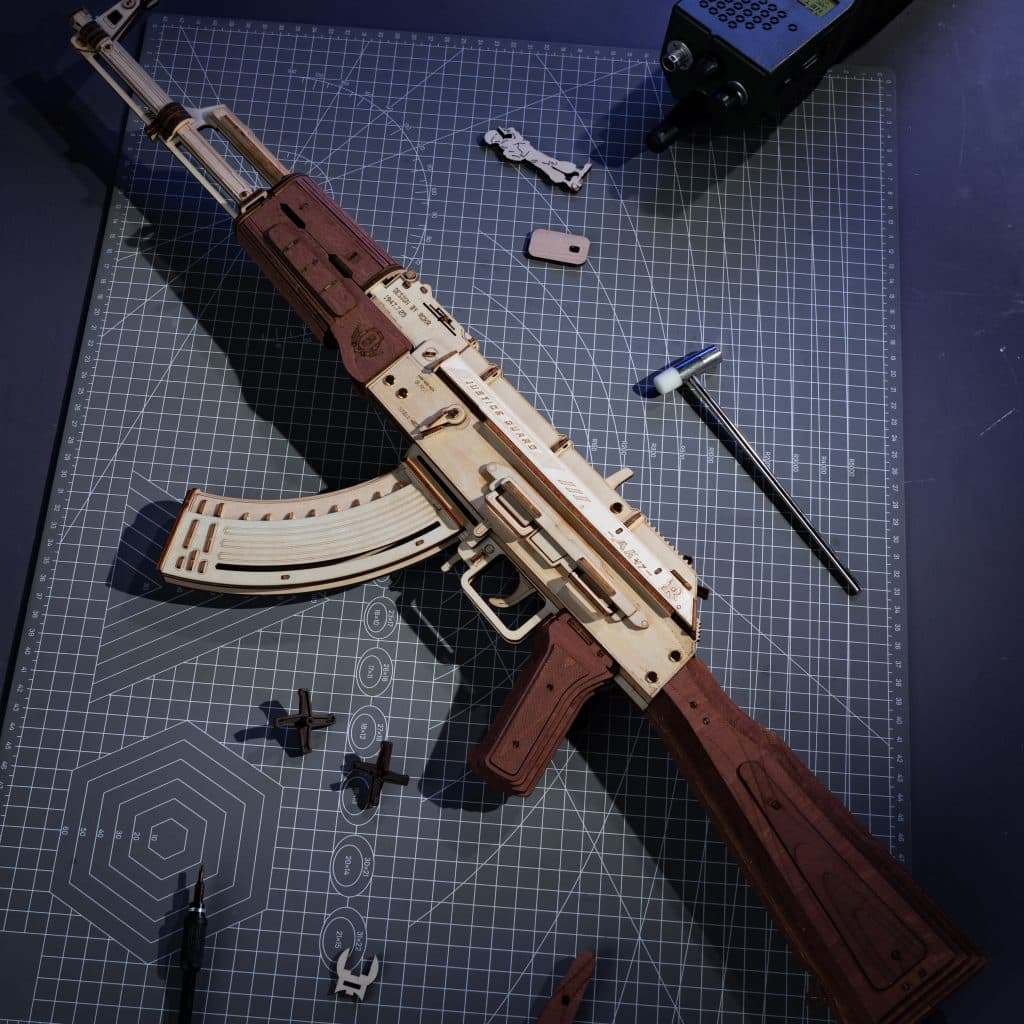 Operating Instruction(*Please do not aim at face for your safety)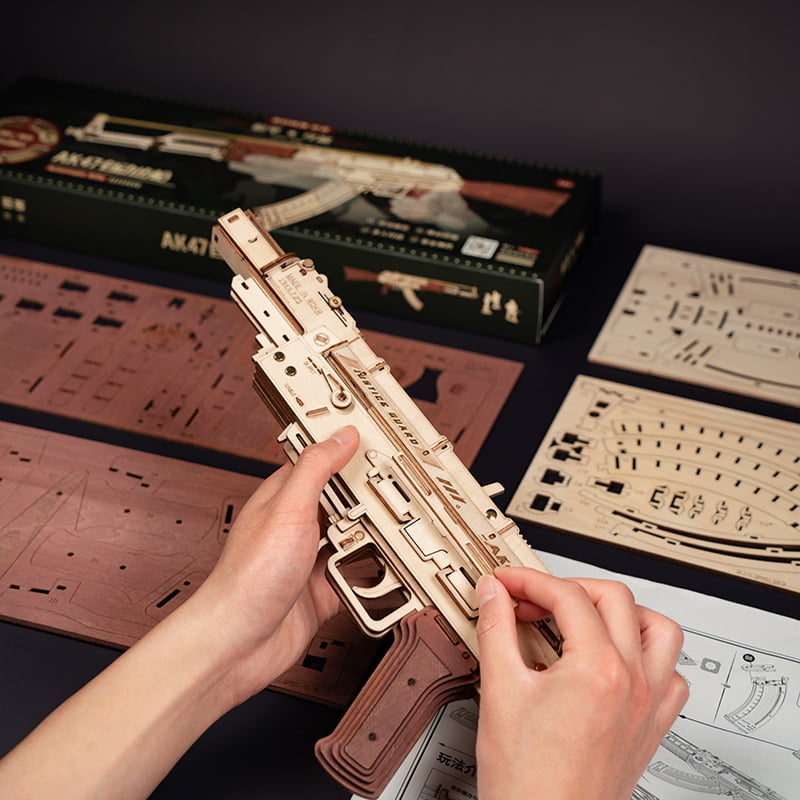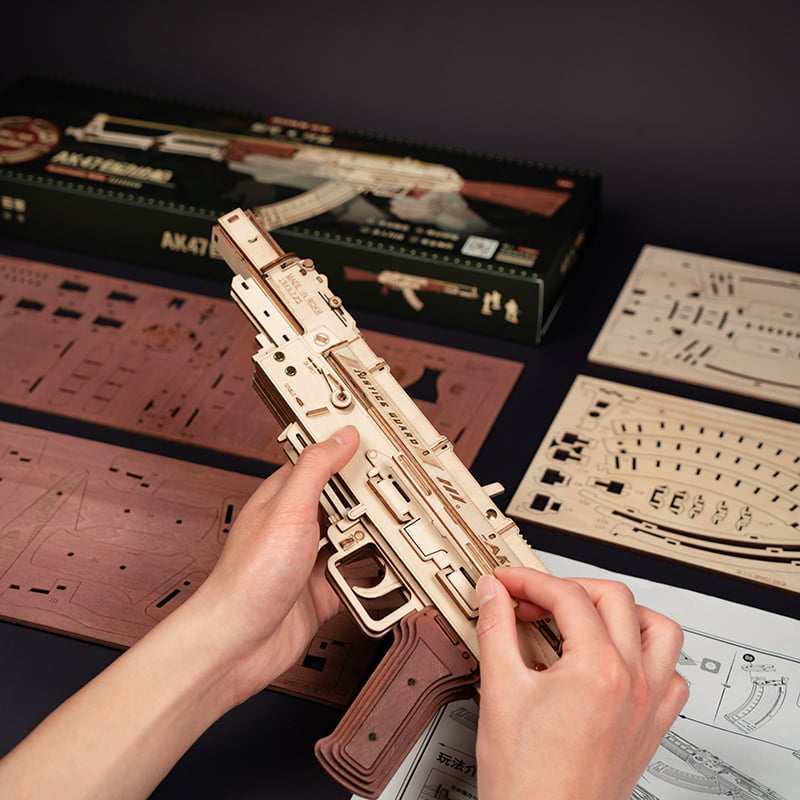 STEP 1
Open the package and take out the wooden parts, instructions and other accessories in turn. Complete this assembly.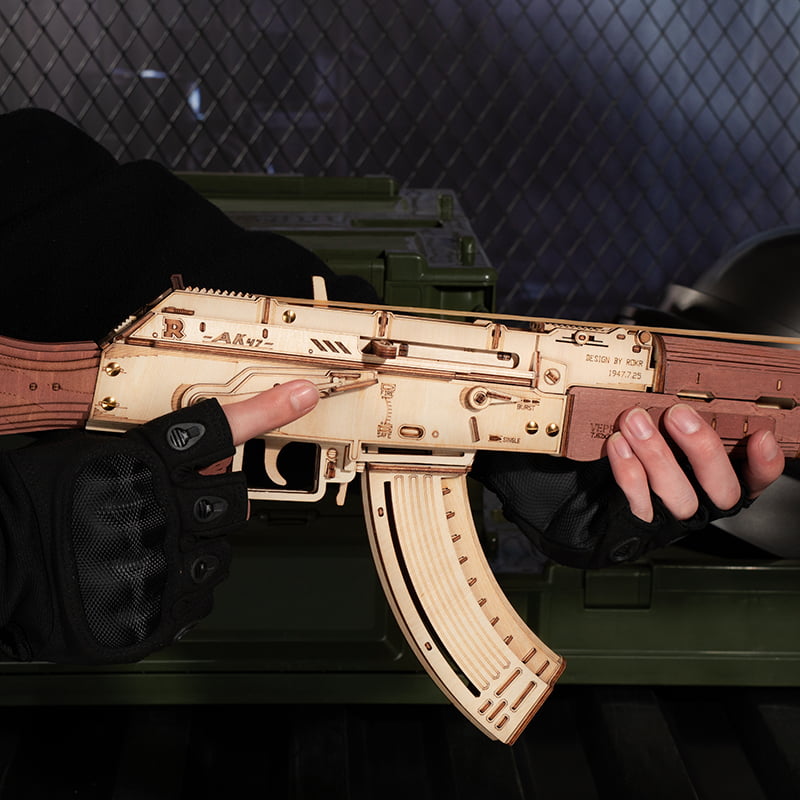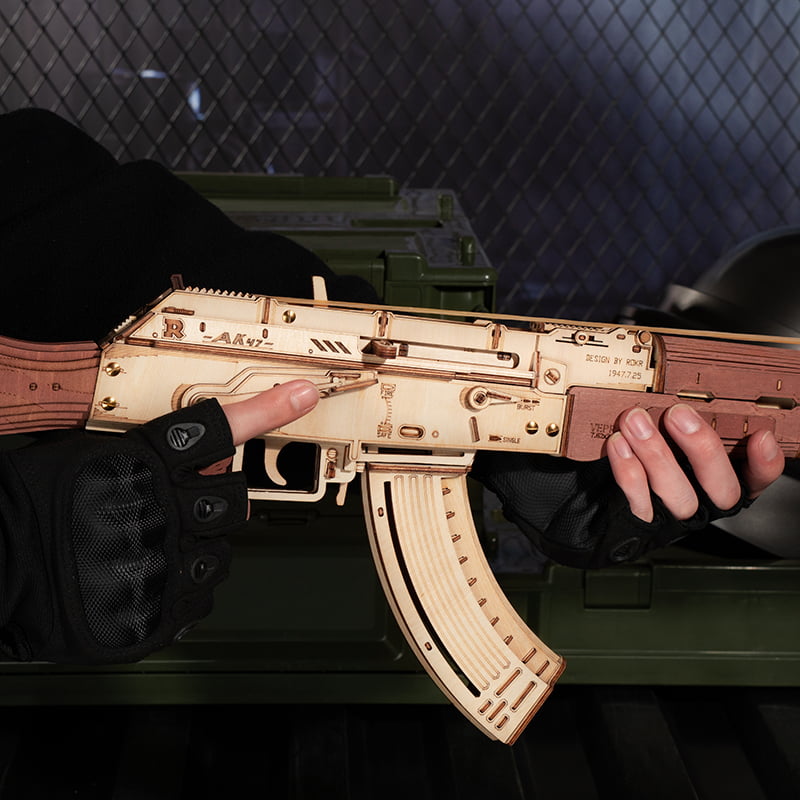 STEP 2
Pull the switch to choose fire mode(fixed/burst fire).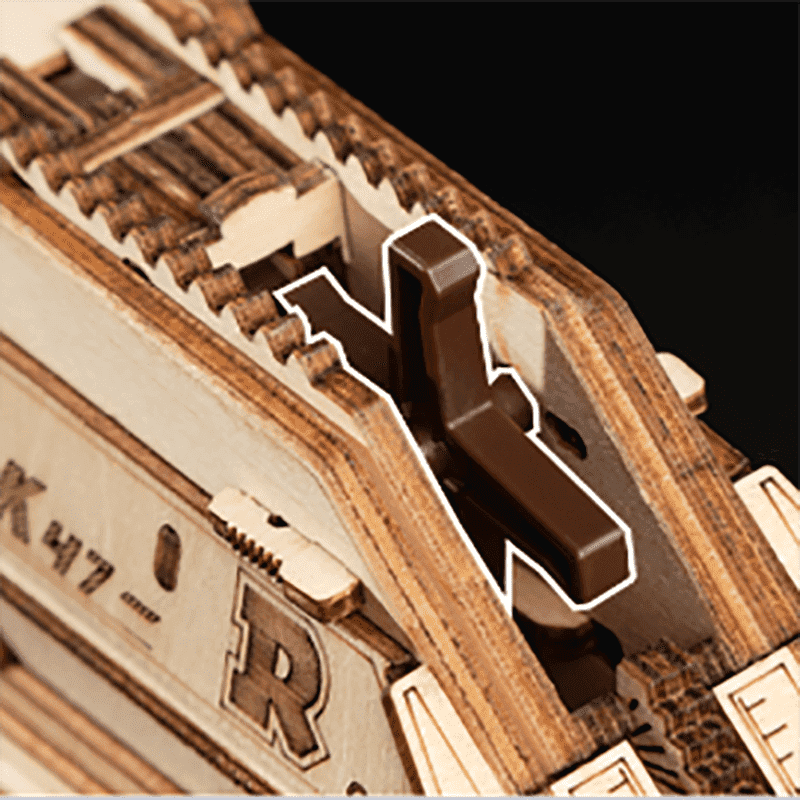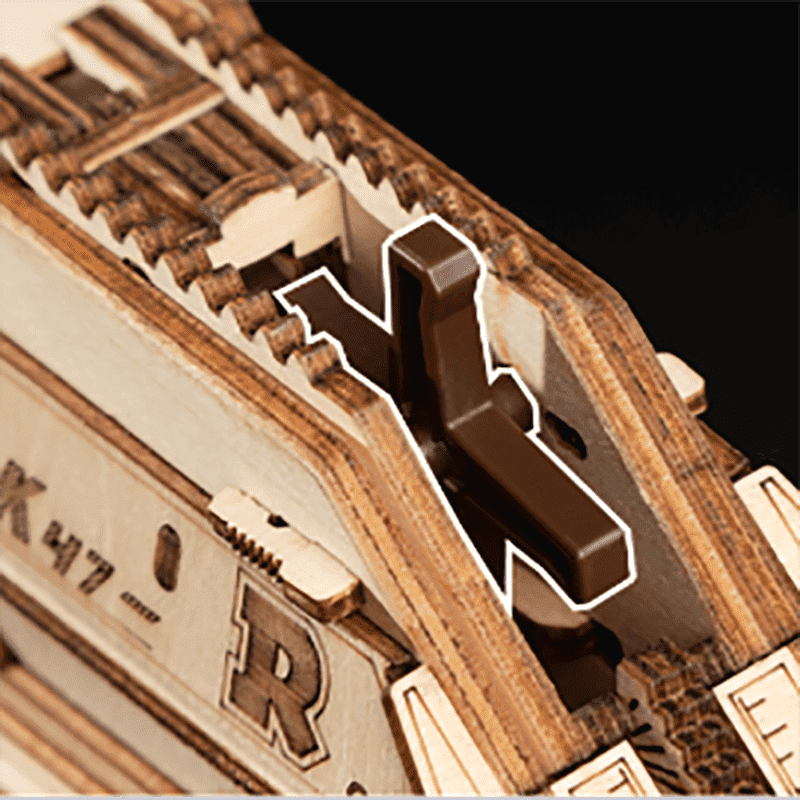 STEP 3
Hook rubber bands and pull the chuck backwards.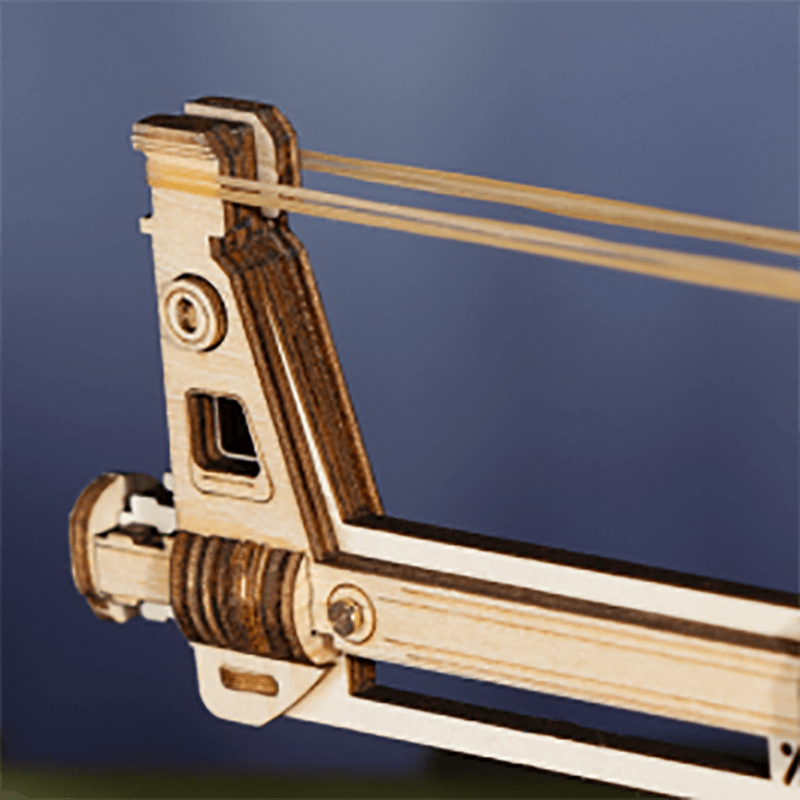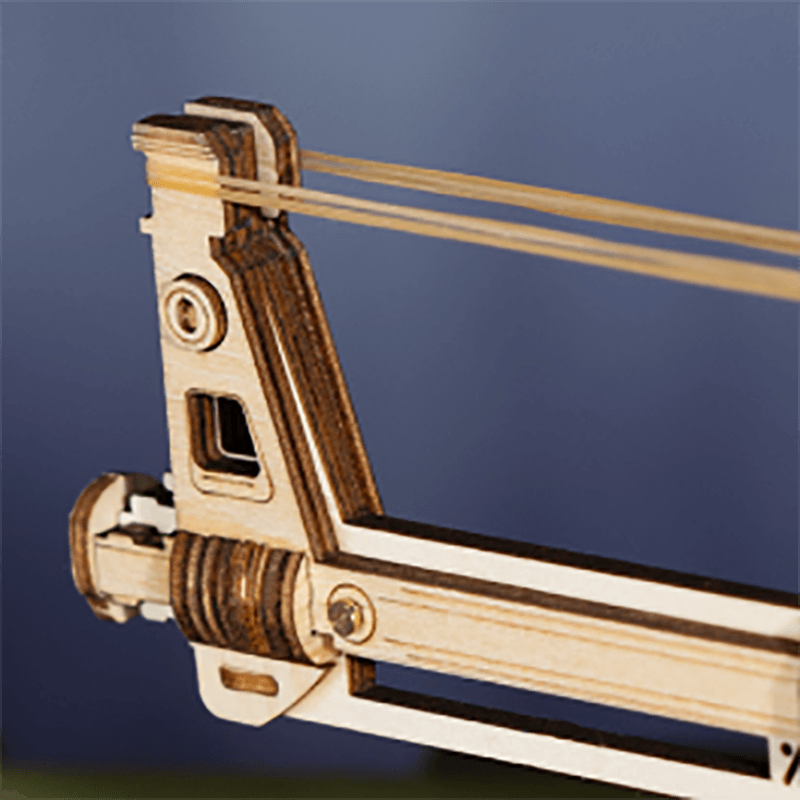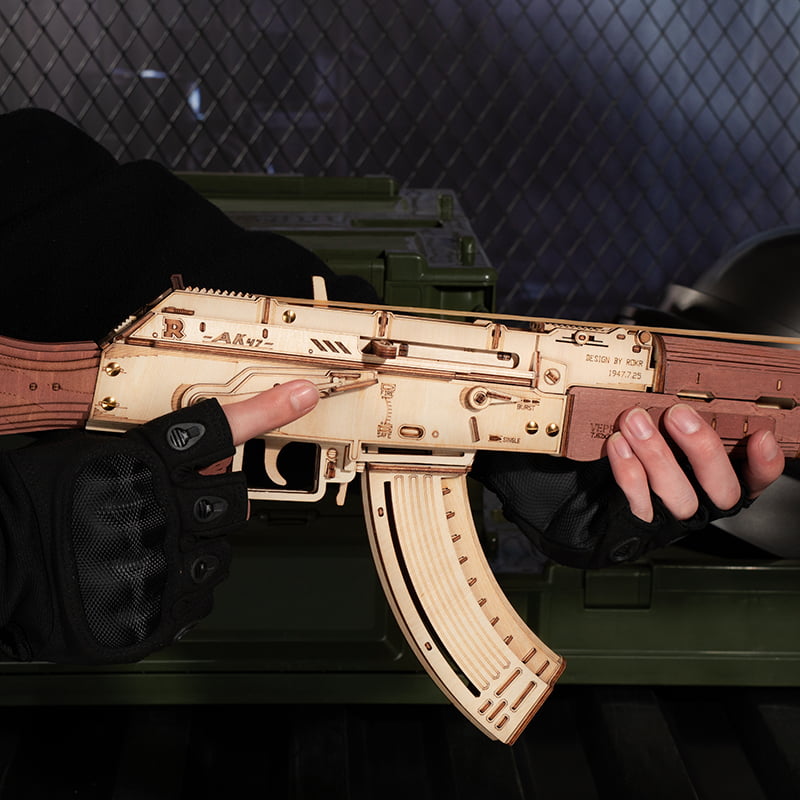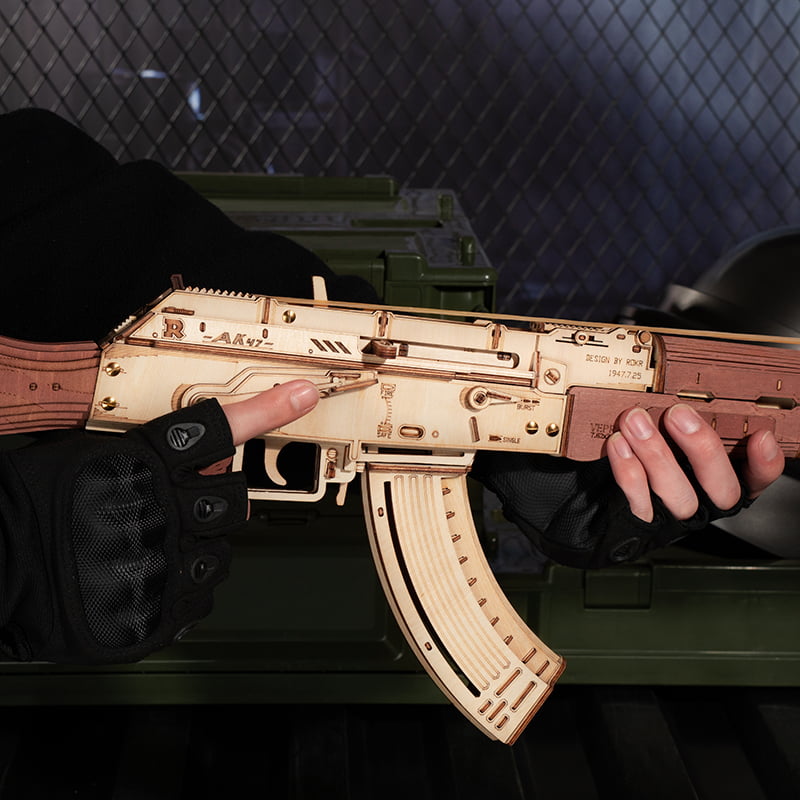 Single/continuous shooting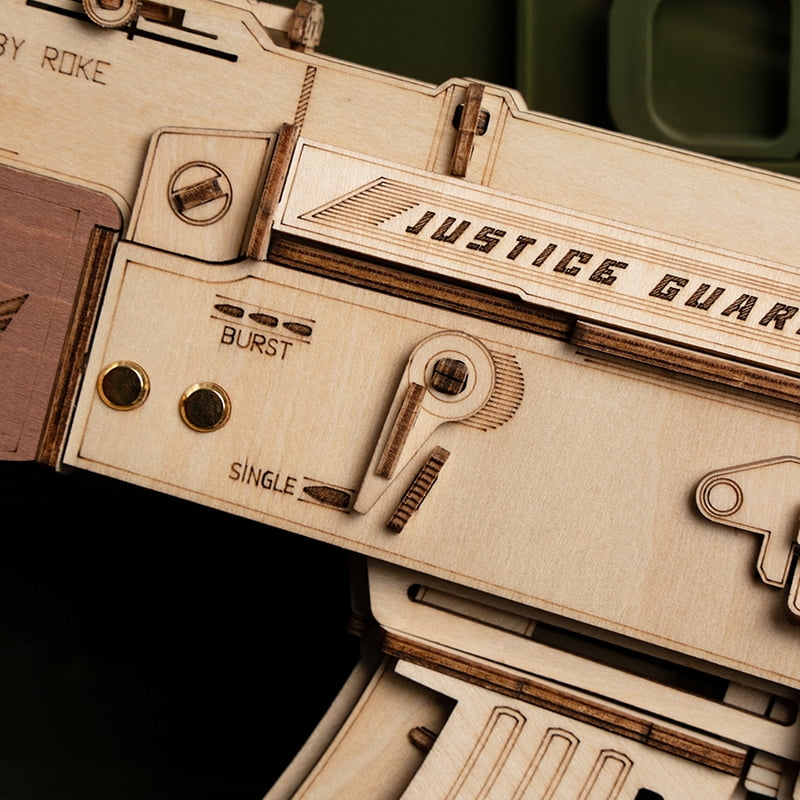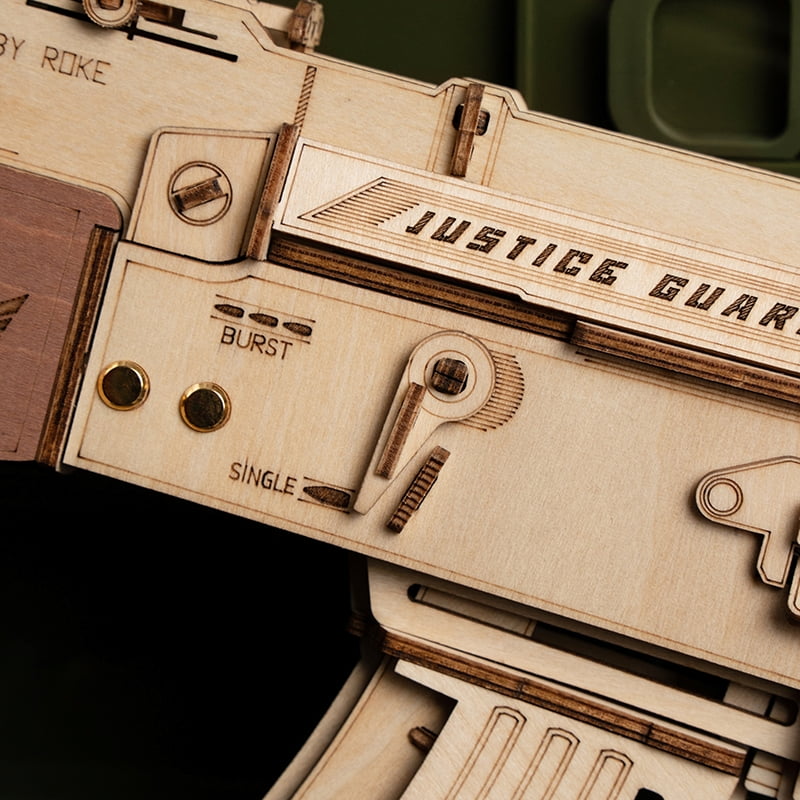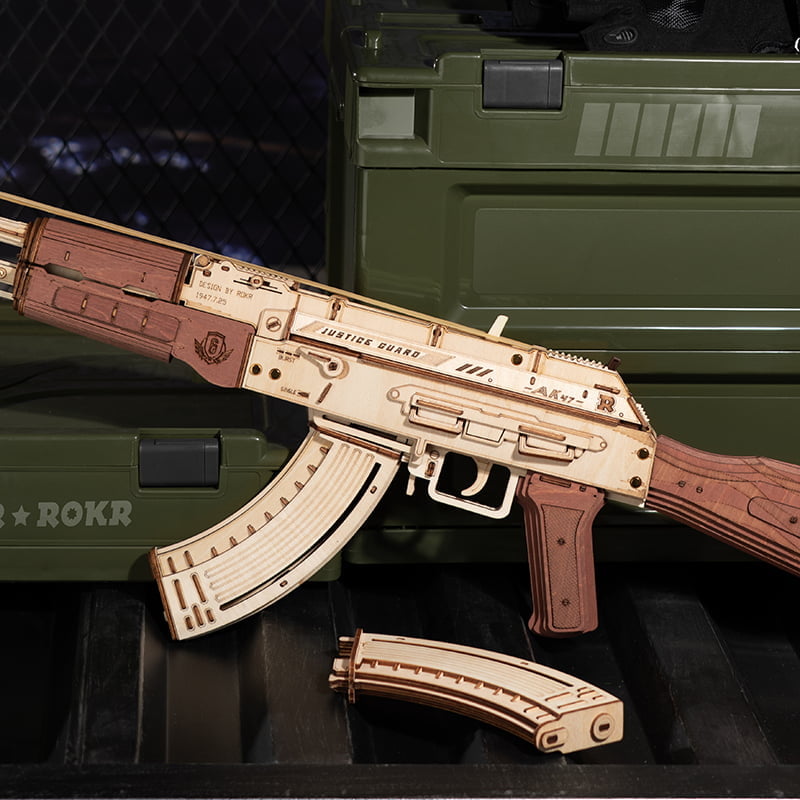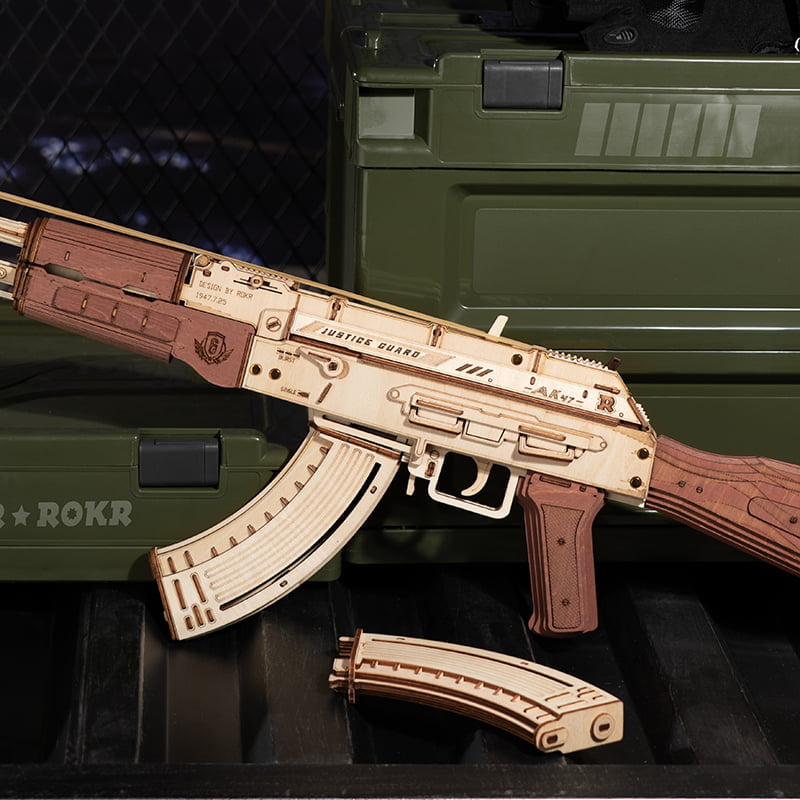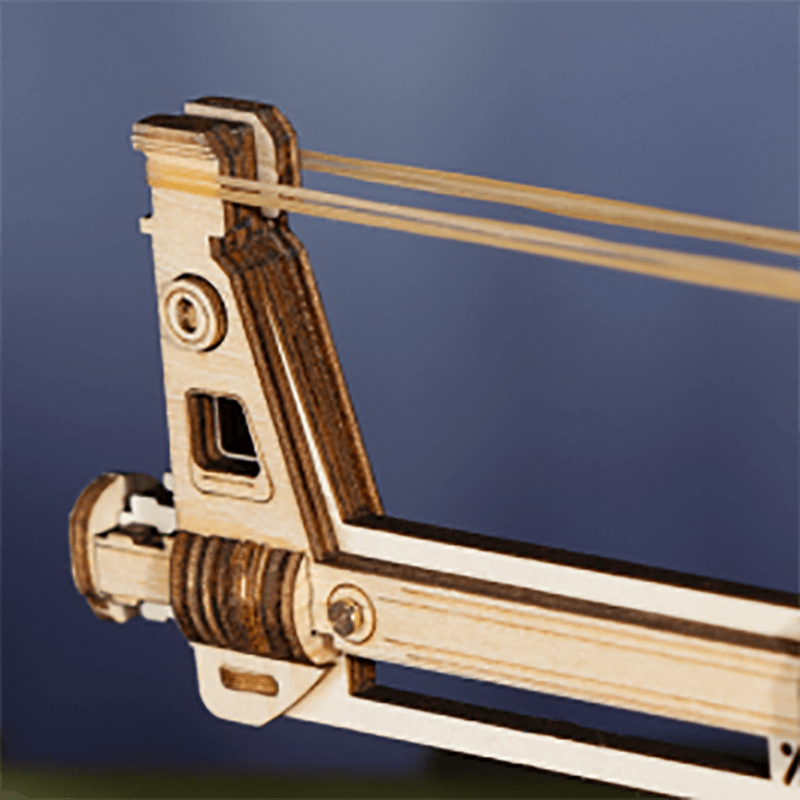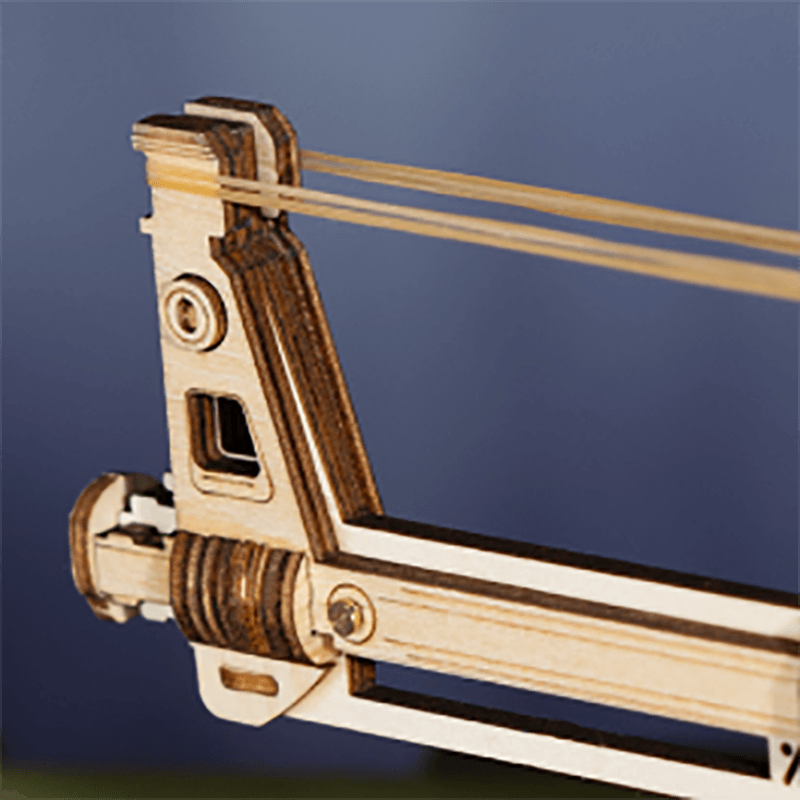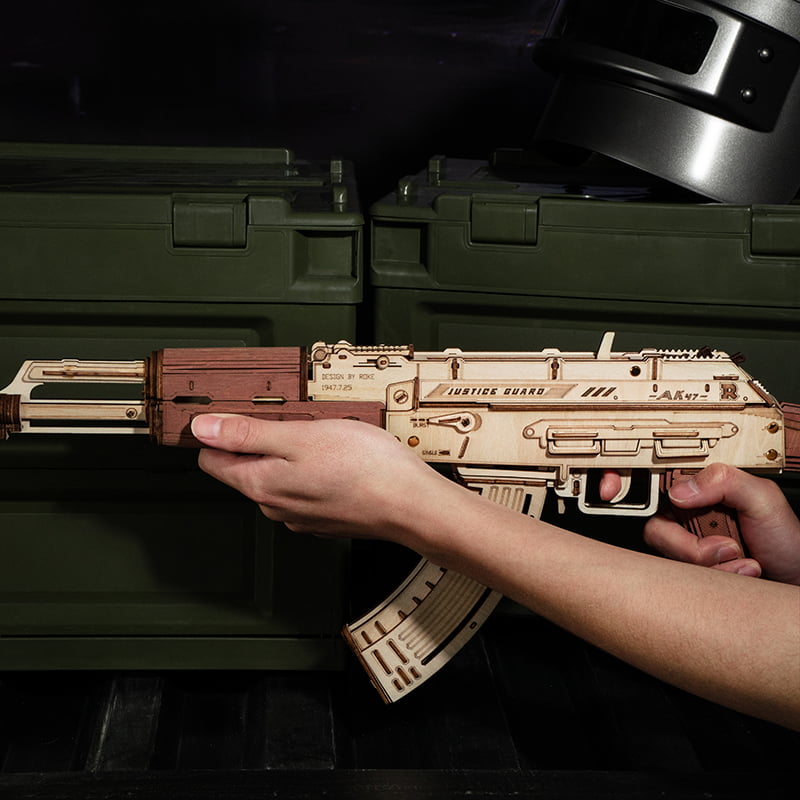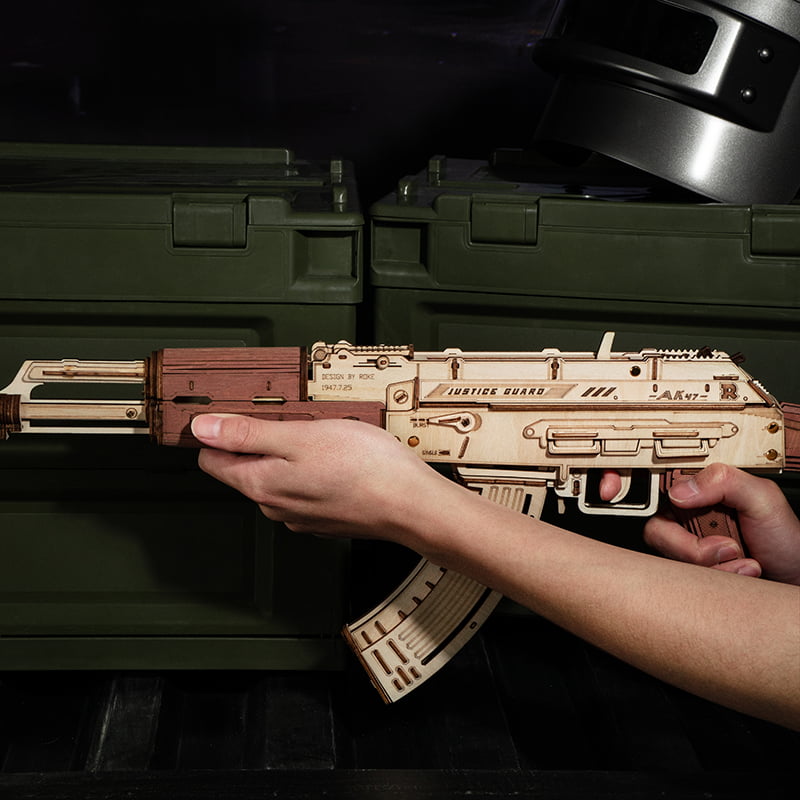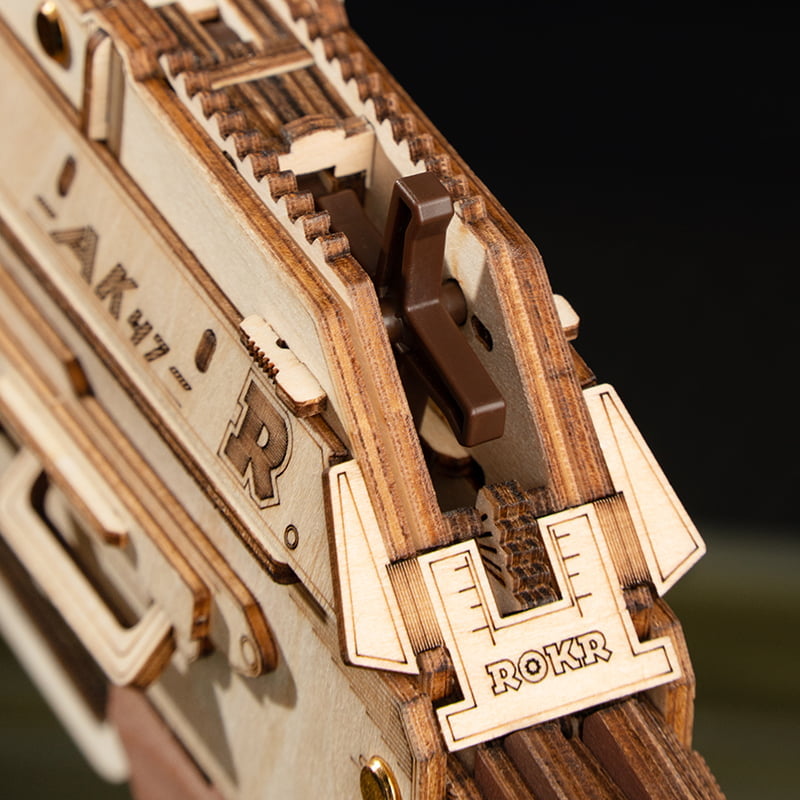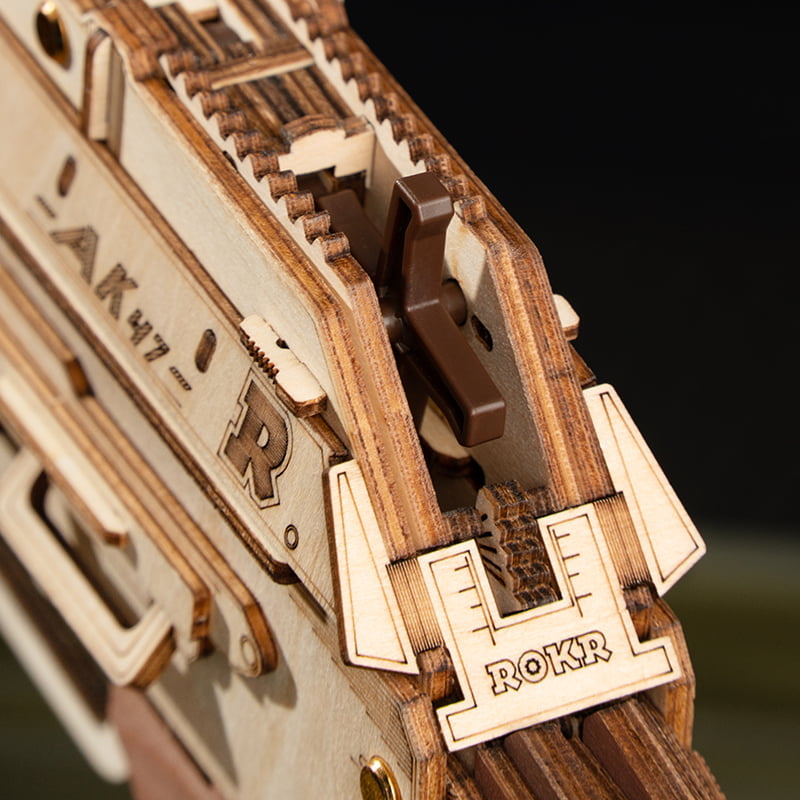 POM Material of Cross Wheel
This firearm model combines the classic AK47 design with modern wooden assembly techniques, resulting in a unique and eye-catching weapon. The use of wood not only adds to the aesthetic appeal but also provides durability and strength to the rifle. Assembling the rifle yourself allows you to gain a deeper understanding of its inner workings and maintenance needs, making it a valuable tool for firearm enthusiasts and collectors alike. Don't miss out on the opportunity to own a one-of-a-kind AK47 assault rifle with a touch of craftsmanship and history!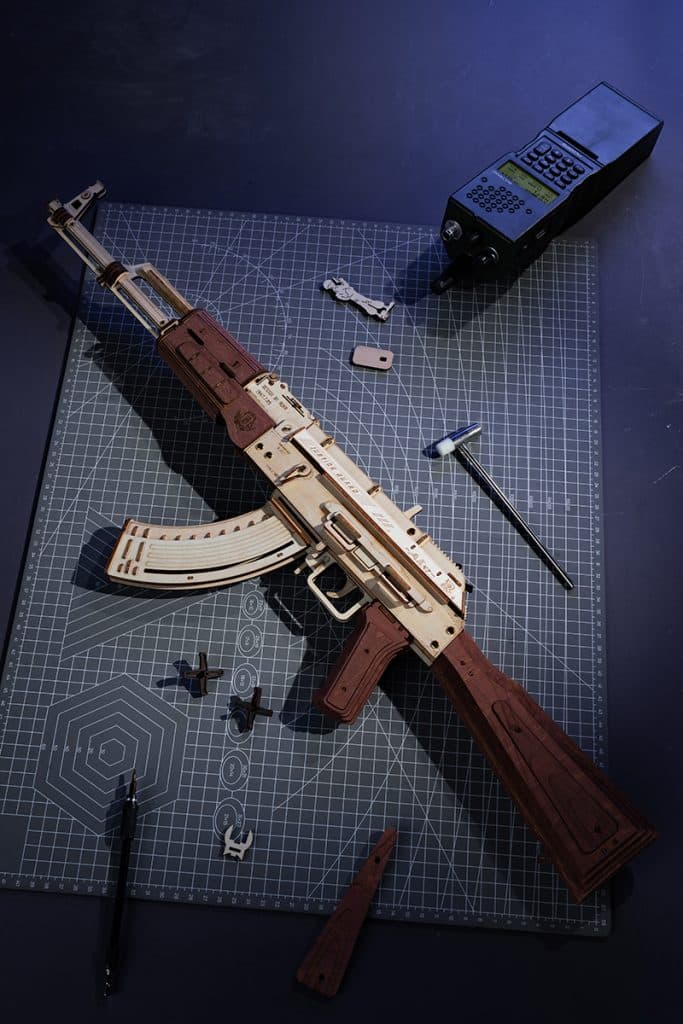 Detailed Instruction Book
There are clear and understandable pictures and texts in the manual. Take out the corresponding numbered pieces and assemble them as pictures.In addition, we also have a detailed assembly video, which is posted on the official YouTube account.
Exercise your Brain
Hands-on way to exercise logic thinking and fine mental skills. In this process,kids would be more patient and prudent! 
It brings tremendous sense of accomplishment and can show it off to friends and family.
A Great Gift and Worthy of Display
A best gift to someone special gift or home decor for anyone.It will make a memorable gift that will be cherished forever.No one will refuse such a fairy house gift!
Rewarding Assembly
The delicate model needs your patience and concentration. But the grand result will be rewarding.