ROKR Terminator M870 LQ501
Items Included: Wooden Pieces
Number of Pieces: 170
Difficulty Level: ★★★☆☆☆
Assembly Time: About 1.5h
Age: 14+
Assembly Size: 433*60*92mm
Package Size: 453.5*153.5*38mm
SIMULATION MODEL – It is not only an assembled model but also an M870 which can be shot with rubber bands. Pull the trigger, fire!
SAFE BULLETS – For your safety, bullets are substituted with rubber bands. Also, wooden targets are included in the package. After assembly, play it with your kids. It will be great fun.
Description
ROKR Monocular Telescope Story
Remington Arsenal successfully developed Remington M870 in the early 1950s. Because of its compact structure, reliable performance, and reasonable price, it soon became a popular weapon loved by Americans and was adopted by the U.S. Army and police. Therefore, Remington Arsenal has become a favorite arsenal of U.S. law enforcement agencies and the army. Since the early 1950s, it has been special equipment for the U.S. military and police. The U.S. border guard especially loves this gun.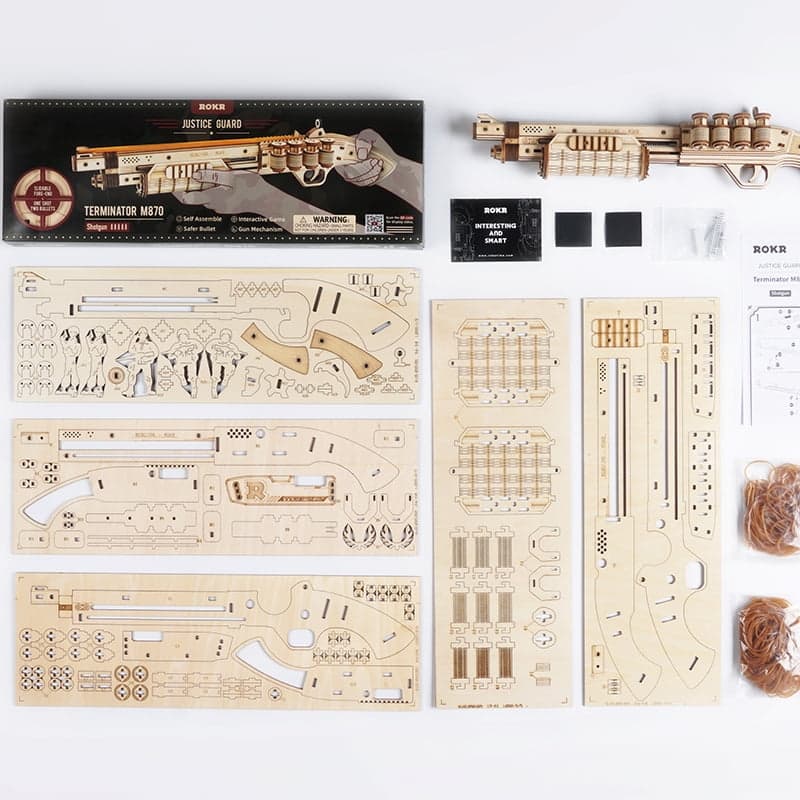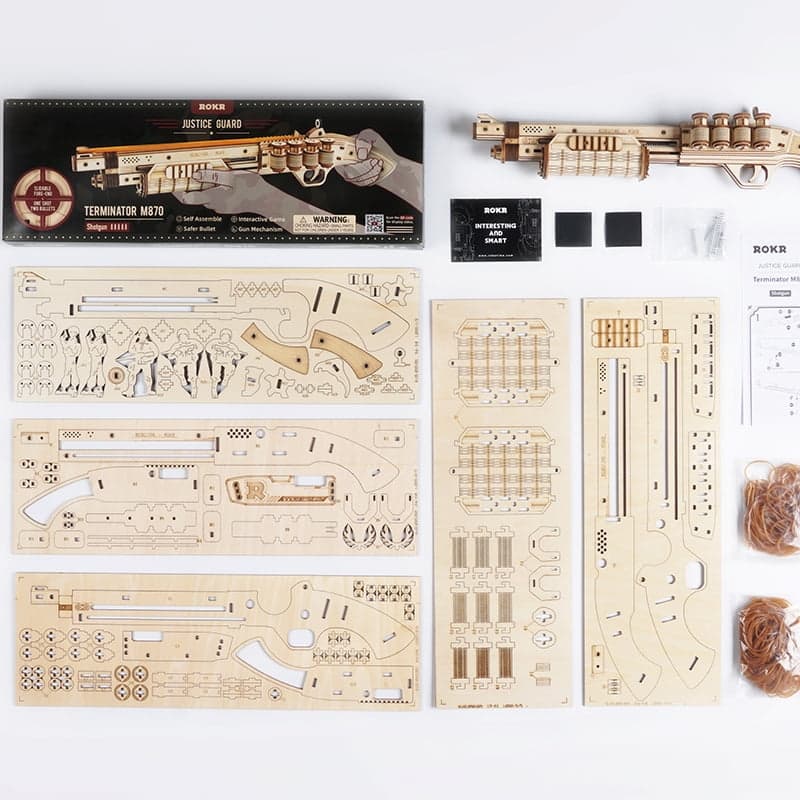 PACKAGE INCLUDED
Exquisite Package.
Pre-cut Wood Sheets.
Accessory Tools.
English Instruction Book.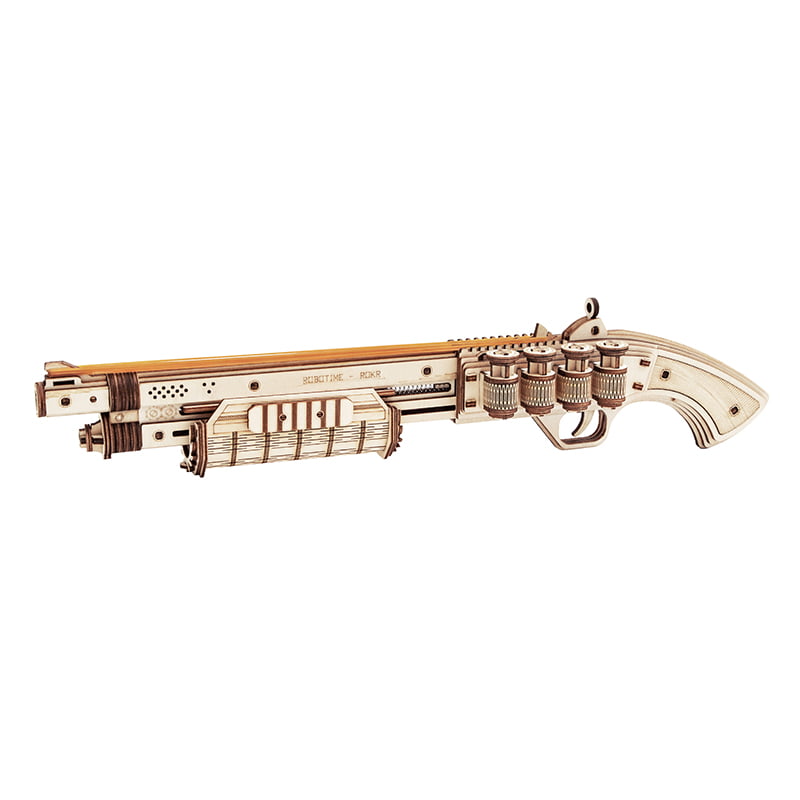 STEP 1
Pick out the wooden pieces as steps shown.
Find out the corresponding parts and small tools according to the instructions  to start assembly.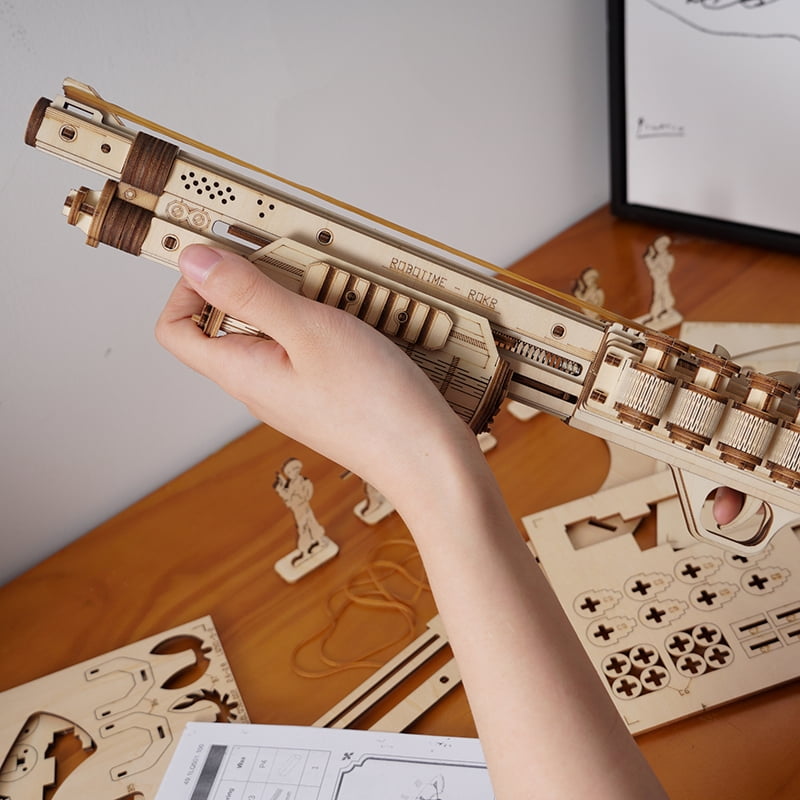 STEP 2
Load 2 rubber bands at a shot on the bullet hook and receiver hook. Then rotate the hook gear to chamber to load another shot, totally up to 5 shots a whole round.
Slide the fore-end.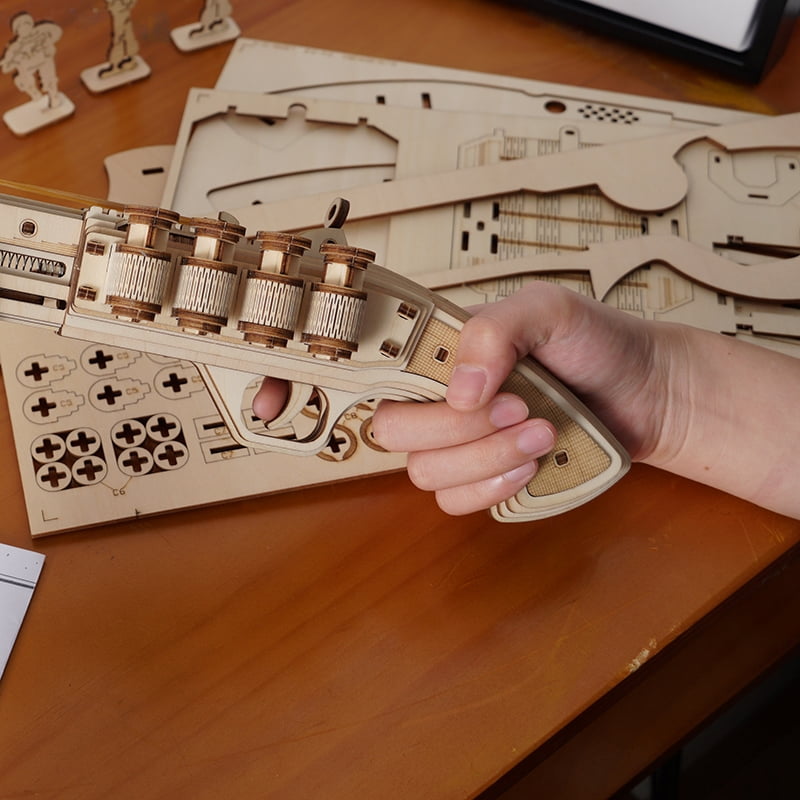 STEP 3
Aim. Pull the trigger. Fire!
Raw Materials & Technology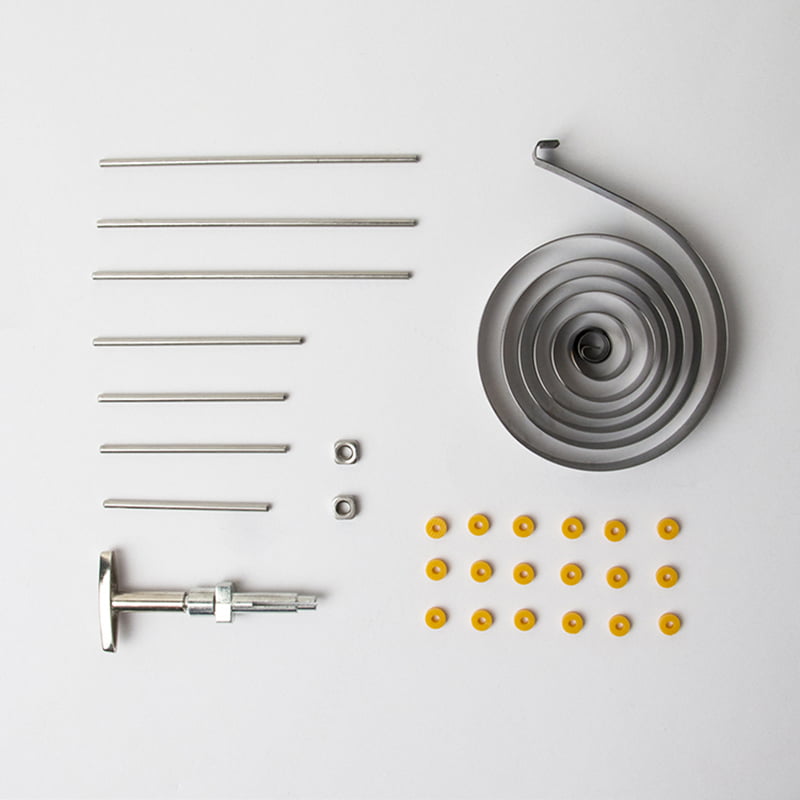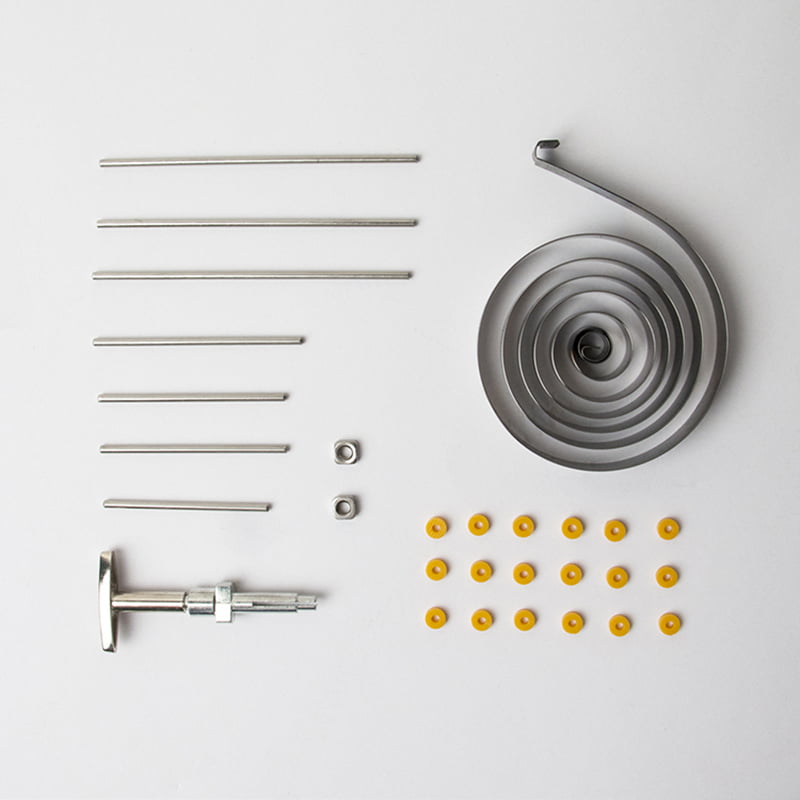 ROKR R & D team preferred customized parts for better durability.
Hundreds of suppliers from all over the world provide adaptive parts for a series of products, which are deeply customized to meet the design functions.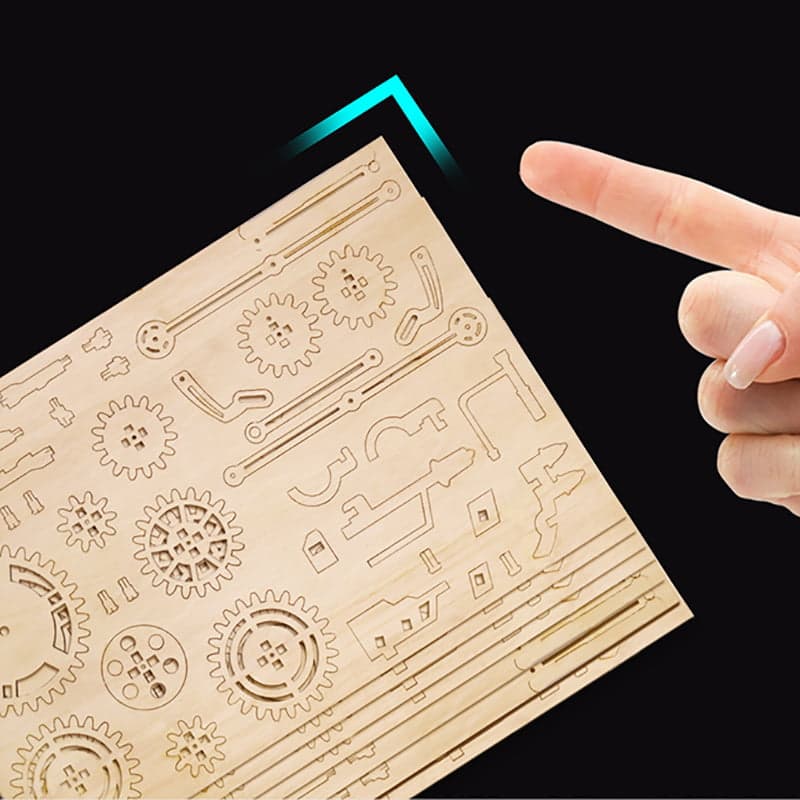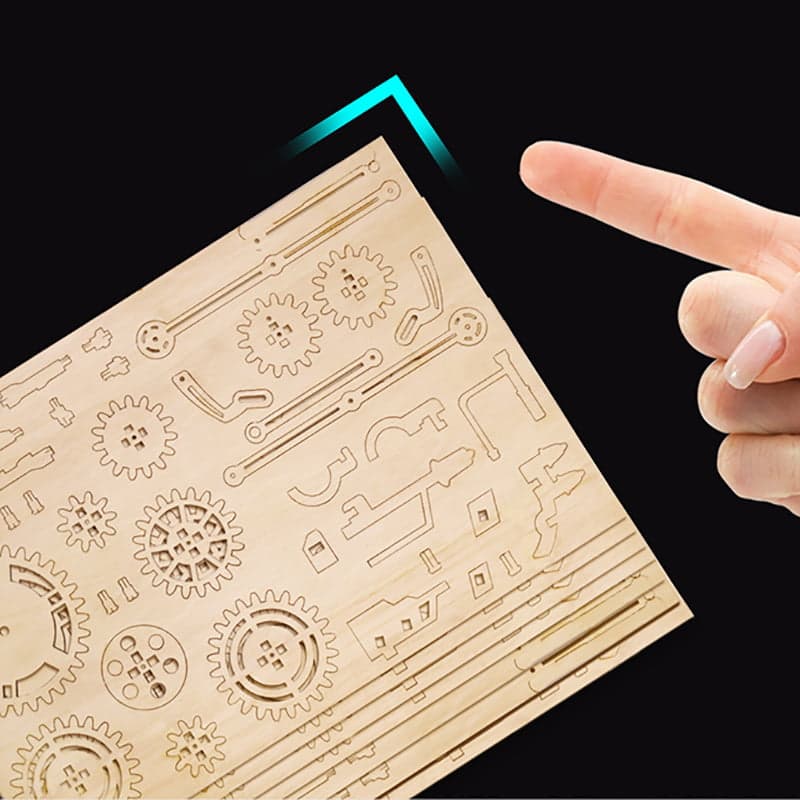 High precision steady-state laser cutting is adopted, and the process error is controlled within 5um, which is equivalent to 1 / 20 hair diameter.
Guarantee that all parts can fully fit and assemble, and each bayonet fits tightly.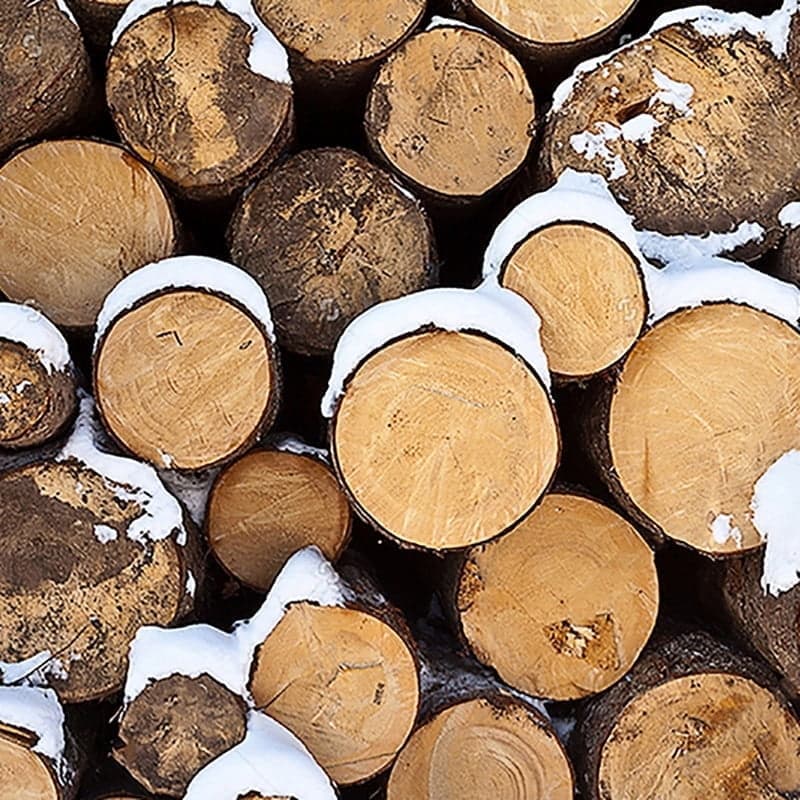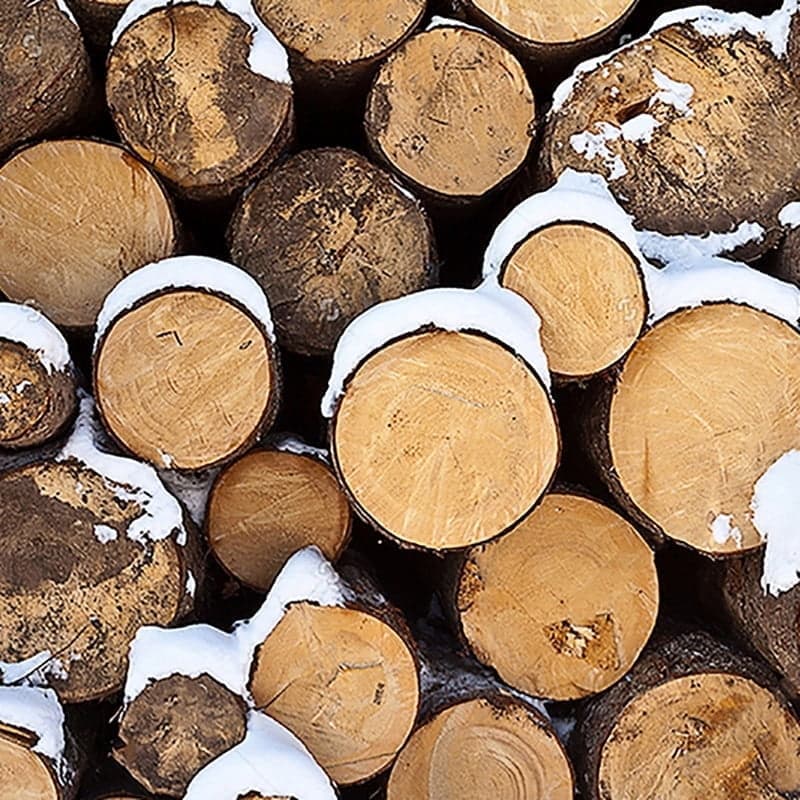 We choose basswood from the high latitude of the northern cold zone, which is strong and durable.
The wood grain is fine and uniform, showing silk luster, layered, wear-resistant, corrosion-resistant and not easy to crack.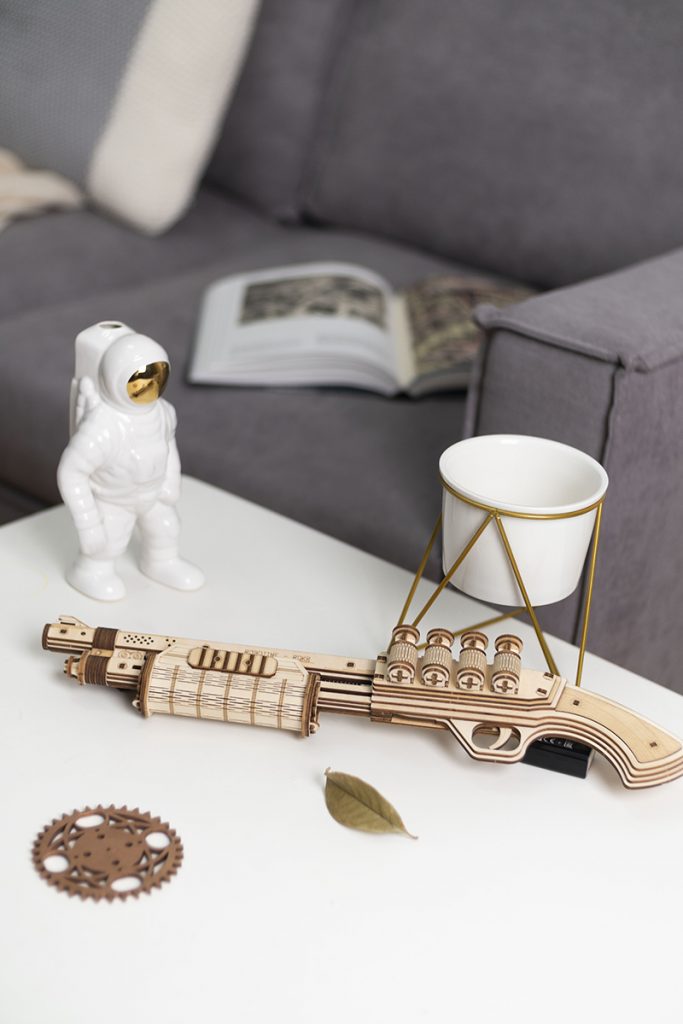 To every brave child: you will guard the peace of the future world
Every child's heart lives a hero with the integration of mechanical transmission and wood technology. It is not only a symbol of peace but also the guardian of childlike innocence.
Children can assemble by themselves through a simple transmission combination; They can realize the functions of pulling bolt, trigger, and launching, and appreciate the ingenious mechanical structure.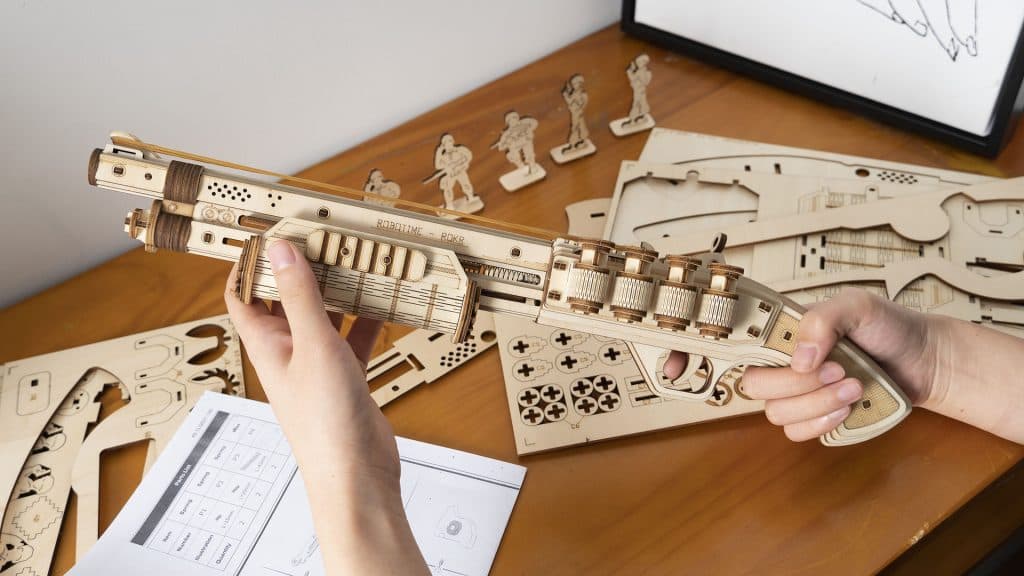 This is a perfectly designed DIY kit that requires your hands-on work to complete. The mechanical wooden puzzle toy uses precise laser-cut plywood, few burrs, and is environmentally friendly. With up to 100 soft rubber bands, you won't worry about running out of equipment. Soft rubber bands won't cause pain during the game. You can enjoy the fun of a combating match with friends or family. Adults can also play like a child!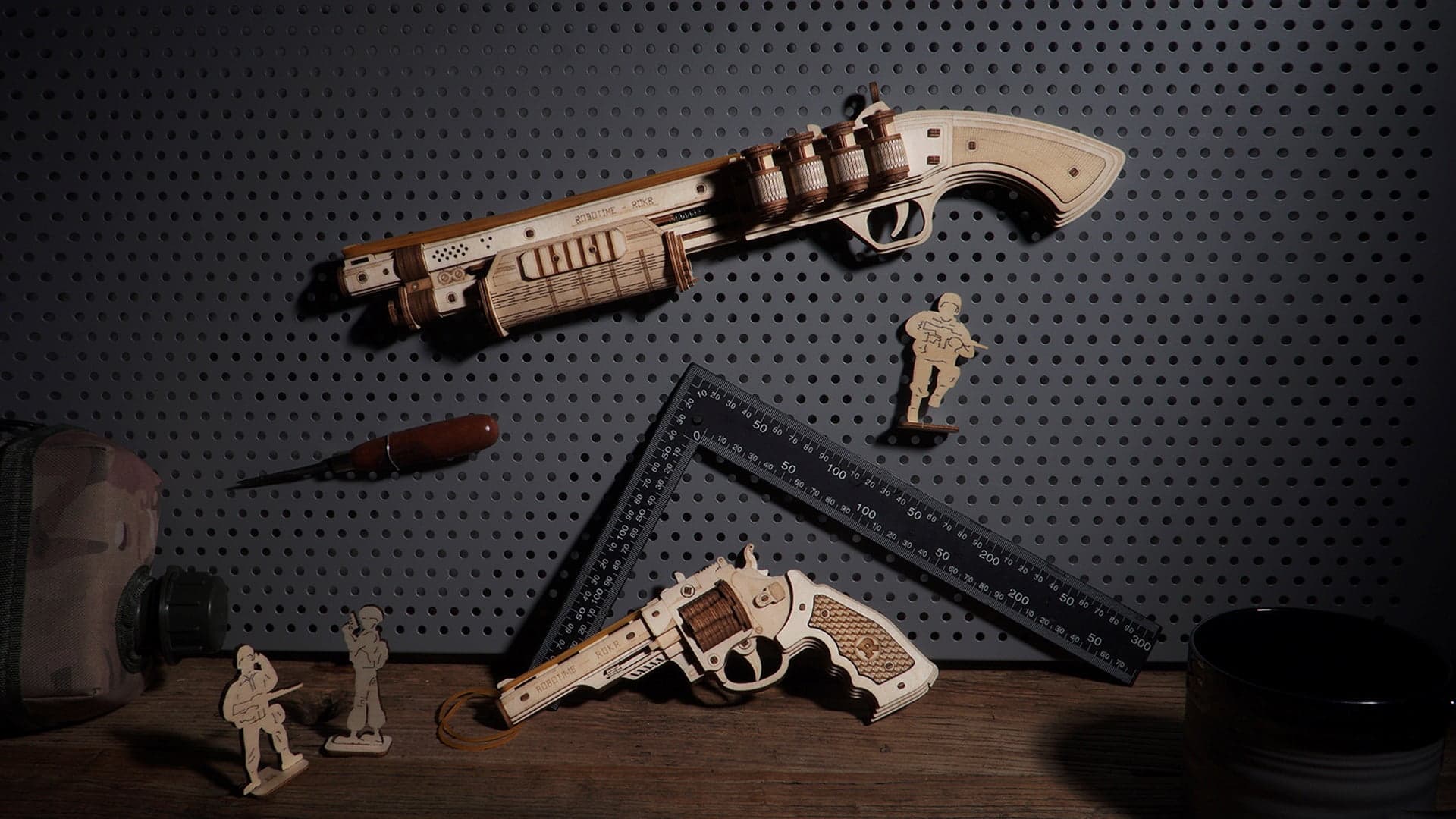 Exercise your Brain
Hands-on way to exercise logic thinking and fine mental skills. In this process,kids would be more patient and prudent! 
It brings tremendous sense of accomplishment and can show it off to friends and family.
Rewarding Assembly
The delicate model needs your patience and concentration. But the grand result will be rewarding.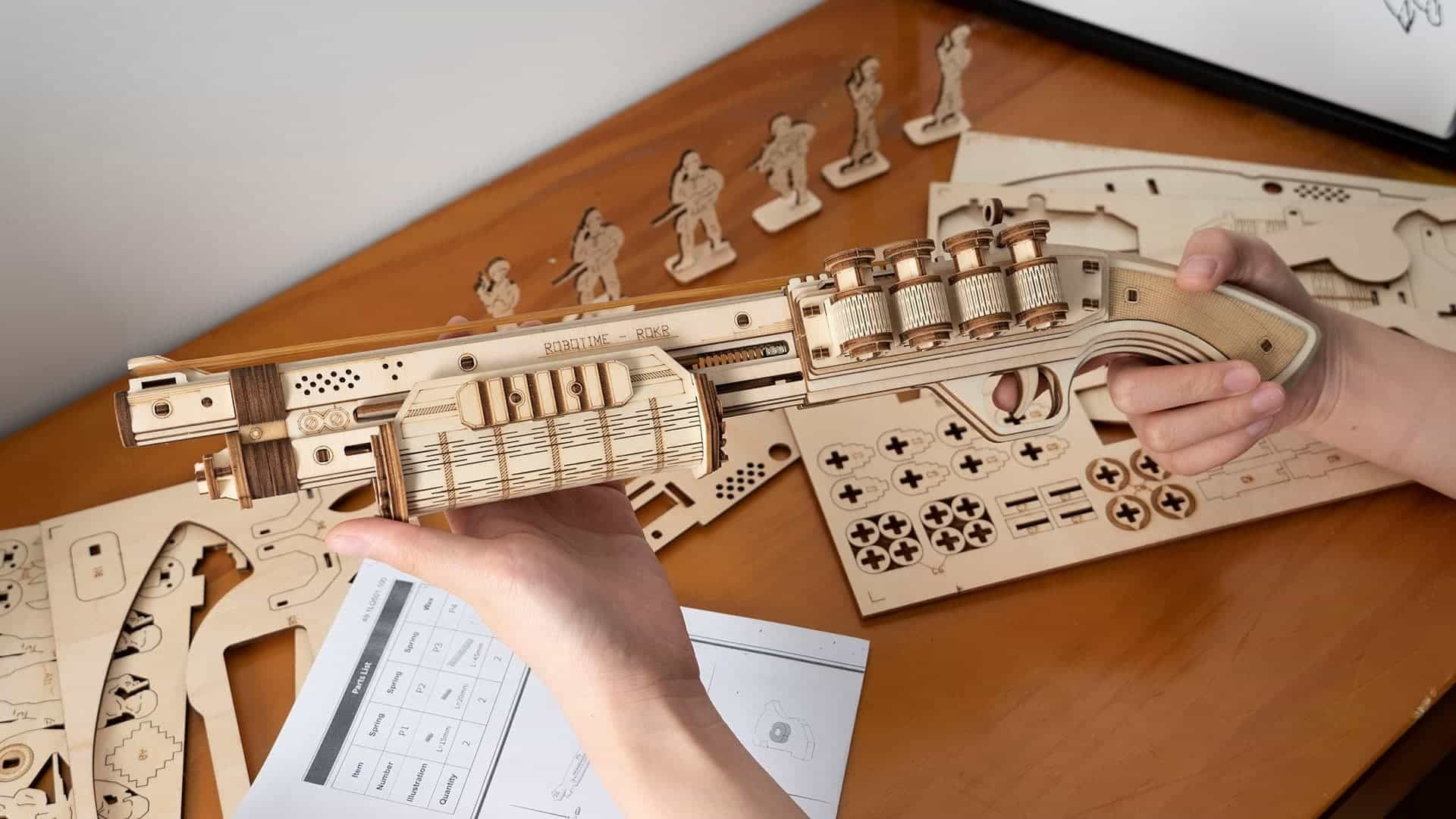 Detailed Instruction Book
There are clear and understandable pictures and texts in the manual. Take out the corresponding numbered wooden pieces and assemble them as pictures.In addition, we also have a detailed assembly video, which is posted on the official YouTube account.
A Great Gift and Worthy of Display
A best gift to someone special  gift or home decor for anyone.It will make a memorable gift that will be cherished forever.No one will refuse such a fairy house gift!